During hurricane season, the news is filled with stories about tropical storms and hurricanes heading toward U.S. shores. For many homeowners in coastal regions, these storms are common and expected given the location. However, there are many who may be confused about the difference between a tropical storm vs. hurricane.
Knowing the difference between a tropical storm and a hurricane can help you better prepare for the potential damage to your home while also knowing when it's adequate to evacuate.
What is a Tropical Storm?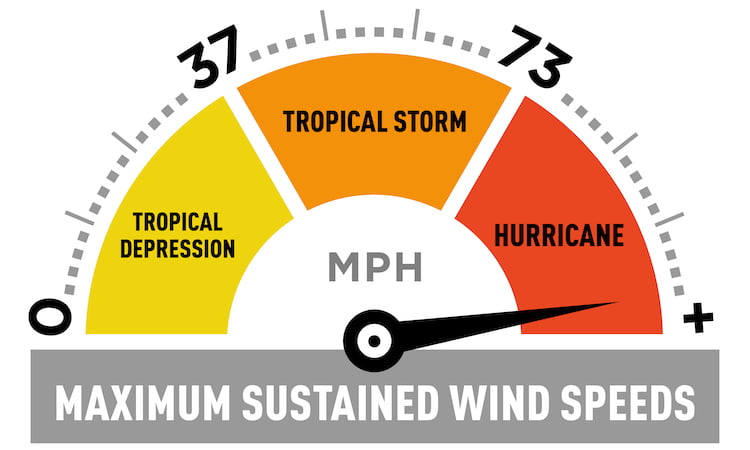 Tropical storms are tropical cyclones that have maximum sustained wind speeds ranging from 39-73 mph. Heavy rainfall and high winds from tropical storms can cause significant damage. With an average of 12 named storms occurring each year, many homeowners, even those who do not live in coastal areas, may potentially experience property damage that will require the help of a professional to recover from.
Tropical cyclone is a term used to describe a low-pressure system which often develops over tropical waters and are known for their circular pattern. If this low-pressure system has sustained winds of 38 mph or less it is known as a tropical depression. However, when the wind speeds exceed the 39-73 mph for a tropical storm they are upgraded to a hurricane.
What is a Hurricane?
Hurricanes are tropical cyclones with maximum sustained winds of 74 mph or more. A hurricane is an intense tropical weather system that can be classified from category 1 to 5 based on its wind speed. This system allows for hurricanes to further be graded in terms of their potential to cause damage to property.
An average of six hurricanes hit the U.S. each year, with three of those being major hurricanes (category 3, 4, or 5). Major hurricanes have the potential to cause devastating wind damage and significant loss of life due to the strength of their winds.
Regardless of the category, hurricanes are life-threatening and can produce deadly storm surge, flash floods, and tornadoes. Hurricanes and tropical storms account for almost 40 percent of catastrophic property loss, so don't allow common myths regarding hurricanes to trick you into lowering your guard.
What is the Difference Between a Tropical Storm and a Hurricane?
Though both tropical storms and hurricanes can be dangerous, there are differences in the damage each can cause and what action you should take. The main difference between tropical storms and hurricanes is their intensity. Here's a quick breakdown of the wind speed for each:
Tropical depressions have sustained wind speeds of 38 mph or less
Tropical storms have sustained wind speeds ranging from 39-73 mph
Hurricanes have sustained wind speeds ranging from 74 mph or greater
The more intense a storm is, the more potential for damage there is to your property. Knowing the difference between a tropical storm and a hurricane can help better give you an idea of the potential damage that may occur to your property.
ServiceMaster Restore is Here to Help You Recover
Despite the differences between tropical storms and hurricanes, they are both dangerous types of storms that could lead to damage to your property and potential harm to your family. Take time to create a plan so you will be prepared before a tropical storm or hurricane is headed your way. This plan should include details about evacuating and supplies to stockpile in the event of a storm.
If you do experience damage from a tropical storm or hurricane, ServiceMaster Restore is ready to respond. Our experts have over 65 years of experience providing tropical storm and hurricane damage restoration services to homeowners across the country, and we'll work to get your property back to normal as soon as possible. We have more than 850 locations across the United States that are locally owned and operated.
Our team is backed by over 65 years of experience, and our restoration experts will help you get back to normal as quickly as possible. Call 1-800-RESPOND to reach our disaster response center 24 hours a day, 7 days a week, 365 days a year.