Specializing in Debris Removal in Cleveland
quickly remove downed trees & other debris from your property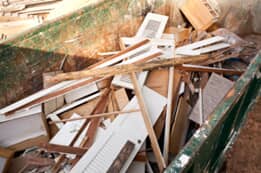 Make way for reconstruction. One of the first tasks after a natural disaster is to remove material that can't be repaired or restored. Clearing debris, hauling away broken objects, and cleaning up leftover dust and liquid are an important part of the Disaster Restoration process. Natural disasters are a common reason why individuals need assistance with eliminating debris.
We can help you clean up after a...
Storm
Flood
Hurricanes
Tornado
Hail Storm or Blizzard
Each of these disasters can cause unique problems. But all of them create a tremendous amount of debris that must be removed and discarded in safe, approved ways.
If some possessions have been exposed to smoke or water, these items can often be restored using our sophisticated drying, cleaning and sanitizing equipment. But other possessions and materials must be removed so the recovery process can proceed. Our skilled, courteous, well-equipped crews are available 24/7 to answer all your storm debris removal needs. We always keep you up-to-date on the restoration work that needs to be done.
For safe, thorough and professional debris removal following any disaster, call (440) 577-5444.
comprehensive debris removal + disaster Cleanup services
Clearing downed trees & branches. If storms or high winds have caused trees and branches to fall on buildings, vehicles or driveways, our crew can clear this debris to provide safe access and facilitate repair work.
Temporary weather protection. After clearing fallen trees and branches that have damaged a roof, we can install temporary tarps to prevent water or snow from getting inside the building.
Pump out of flooded basements and crawl spaces. We'll get rid of unwanted water quickly with our heavy-duty pumping equipment.
Hazardous waste removal. A serious health and safety hazard exists if a disaster involves spilled paints and solvents, or septic overflow. You can count on ServiceMaster by Disaster Recon to remove these and other hazardous materials quickly, safely and thoroughly.
Complete water damage recovery. Water-damaged material that can't be saved will be removed. This includes loose items as well as building materials that may attract mold or rot because of prolonged wetting. We are Northeast Ohio's water damage restoration experts.
Pack up and moving services. In the aftermath of a storm, flood or hurricane, it may be necessary to move people and possessions out of the house temporarily. In addition to removing debris, our crews are well-equipped to pack and move homeowners, clearing some or all of a house so that major repairs can be made.
Cleveland's expert tree and storm debris removal contractor
When an unexpected disaster strikes, it can leave behind serious damage and a ton of unwanted debris on your property. ServiceMaster by Disaster Recon is here to provide some peace of mind following a storm. We specialize in debris removal and Disaster Restoration in Cleveland and the surrounding area.
Contact us today to schedule an estimate for debris removal in Cleveland.