Insurance Restoration Process - Phase 3 - Production
Construction During Traditional Business Hours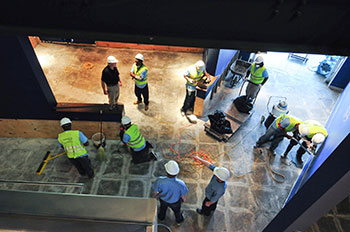 We want to work around your schedule. In order for us to keep the project on a reliable schedule to the projected completion date, we need access to the home/property. We schedule consecutive days for repair work, with a few open days for to review the work done or to clean things up.
Part of our mission statement is that we value customer service more than anything else, so why not provide the customer the production team when they want then?
CHALLENGE: During nontraditional business hours, we simply have fewer staff available to work. When problems arise; i.e: a crew gets delayed, a company vehicle breaks down, injury, or sickness, we are not able to find an another crew to get on site in the time frame needed. This to us is unacceptable as we have NOT PROVIDED BASIC SERVICE, WHICH IS TOTAL FAILURE.
If possible, please make yourself available during traditional business hours.
Or
Allow us to place a lock box on your home in order to complete the repair process efficiently and in a timely manner.
NOTE: We cannot guarantee services when we are scheduled during nontraditional hours.
---
Production Time Frame
Production time frame depends on multiple factors and is attributed to the complexity of the project. Our goal is to make the process succinct and reduce the time you're waiting for us to finish the project. No hard fast rule because in restoration, things are never the same.
Once actual production work begins and we have full access to the work environment for full days without interruption.
On average, days work for each thousand dollars, a $6,000 assignment should be completed in six working days. Small assignments can go longer depending on circumstances, and larger assignments should be completed faster. Again, it depends on the complexity of the project and circumstances.
Once the insurance company receives your claim, they will monitor the days till project completion. They are rating us till you sign our COS at the final walk through. We want you to be satisfied with our work and customer service.
---
Communication
Updating and getting feedback can be difficult, but we'll make ourselves available to you for your convenience. The project manager and project coordinator keep in touch with you at the beginning and at the end of the day. Communication usually happens by emails. The email includes what we plan on accomplishing that day, and the work that was completed.
NOTE: Please remember that complications can arise with any job and things are subject to change. At any point you have questions or concerns, you can contact us to clarify or answer anything about the project.
As we work through the project, we will ask you for a punch out list. A punch list is a document prepared near the end of a construction project listing work not conforming to contract specifications that the contractor must complete prior to final payment.
Write everything down as you see it. Some things will be addressed immediately, while other items may wait until the end.
---
Customer Statement Of Satisfaction
A common question customers ask is when is the project complete?
When all line items are produced.
Work professionally completed to our high standards.
Materials used were of similar quality and look as the damaged items, in pre-loss condition.
The property is cleaned of construction debris and dust.
Our goal is to make sure you're satisfied with our work!
To learn more about how ServiceMaster by Singer can help you with the insurance restoration process, contact us online or call 1-855-574-6437 for more information.