Commercial Water Damage Restoration in Cleveland, OHio
water removal & repair for Business Owners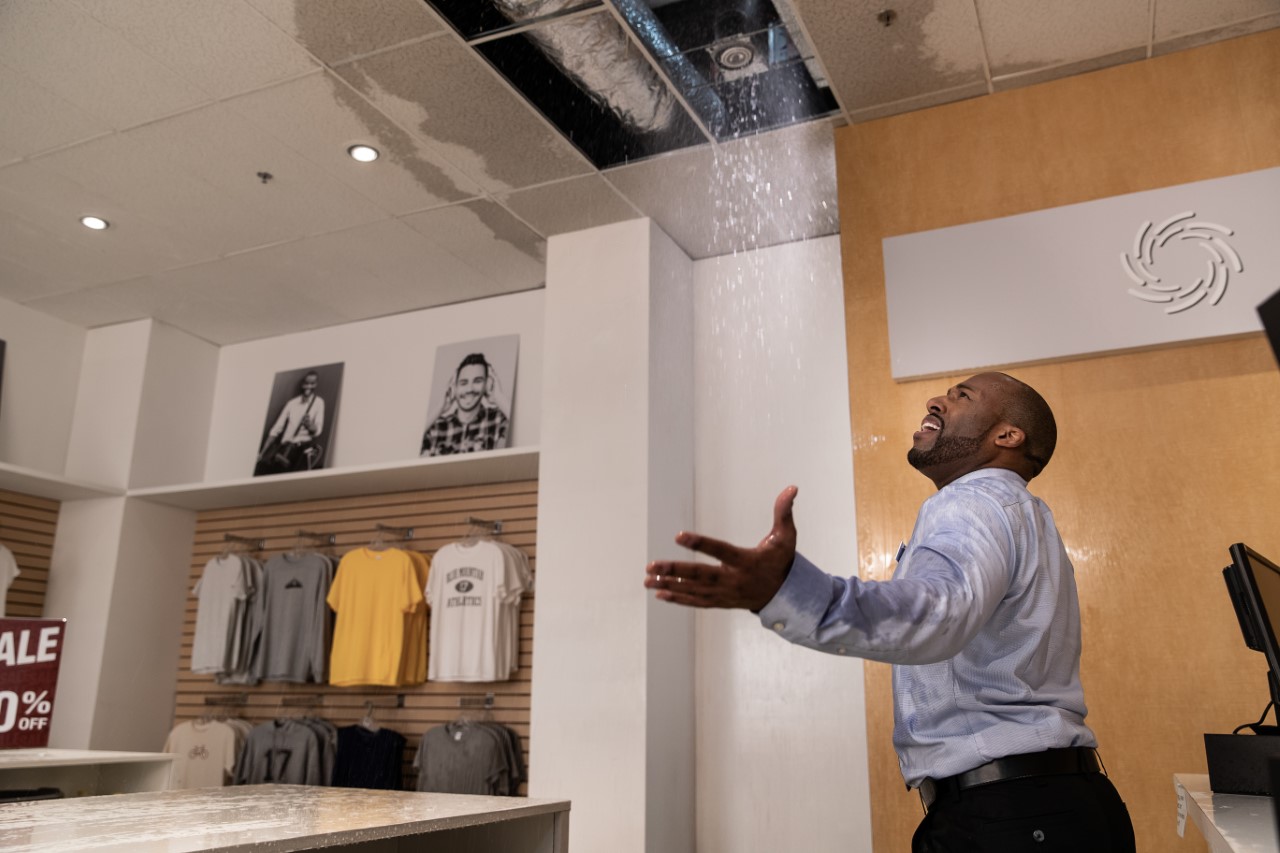 Water damage is an extremely destructive problem for business owners that can be caused by a variety of different factors including flooding, water pipe bursts, or even humidity. Regardless of the cause, water damage needs to be addressed immediately. Ignore the problem and it could get even worse with mold growth and the like.
At ServiceMaster CDR - Eastlake we can help you remove the water and the worry. Our water damage restoration experts will quickly remove water from your commercial property and then take steps to dry and dehumidify the area in order to avoid future complications.
Do you need commercial water damage restoration services for your property? Don't wait until it's too late. Contact us todayonline or at (440) 577-5444 to schedule your free water damage restoration cost estimate in Canton, Medina, Akron, Cleveland, and beyond
Causes of water damage:
Structure failure
Severe weather
Flooding
Plumbing failures
Clogged toilet/burst pipes
Moisture behind walls
A leaking roof
Foundation cracks
Why address commercial water damage immediately?
Properly drying water damage is vital to retaining the value of a commercial property eliminating the need for additional repairs in the future. When water damage is not completely dried, walls are closed up before completely dry for example, it can lead to extremely expensive mold damage.
Mold, rot, and other water-related damages can lead to serious long-term health effects for employees and customers with eventual costs rising quickly. ServiceMaster CDR - Eastlake will help limit the long-term damage and ensure that your commercial property remains a clean, healthy, and safe environment.
Our commercial water damage Cleanup process:
Inspect & Assess: All disaster restoration starts with a plan. Our expert team will inspect your commercial property, assess the damage, and come up with a plan of action.
Remove Water: Once the damage is assessed, we'll then begin to remove the actual water to prevent further damage and start to make the space usable.
Dehumidification: While water removal is good, moisture in the air or behind walls can still cause damage and encourage mold growth and other problems.
Evaporation: While dehumidification takes care of the air quality issue, we'll also evaporate any remaining liquid which will also help prevent mold growth, mildew, and other potential complications. Once this is done the area should be usable again.
Monitoring: After the last of the water is evaporated we'll continue to keep an eye on the area to ensure there are no unexpected complications resulting from the water damage (even though the actual damage should be gone).
What Does It Mean to Be IICRC Certified in Water Damage?
The Institute of Inspection Cleaning and Restoration Certification is an organization that offers certification in a variety of commercial restoration services. Our President Greg Dennison is a certified Water Damage Restoration Technician (WRT) who understands both the essentials and the complexities of cleaning up a building damaged by flooding.
So what does it mean to be certified in this area?
The WRT Certification involves an understanding of many different aspects of water damage. It dives into the fundamentals of how to dry structures, how to deal with contamination and sewer backflows, and how to apply the correct technique to successfully eliminate excess moisture in a given situation. The program usually involves around 20 hours of instruction plus an examination. Some of the essentials of the certification include understanding categories of water contamination (clean, gray, or black) as well as classes of water (quantity, evaporation rate).
Our professionals understand what equipment is best for different situations. For perimeter clean up, we might use a light wand. For concrete, we would probably use a vacuum squeegee. Certification means understanding how to handle the evaporation stage with the right equipment so as to not under-dry (potential for mold growth) or over-dry (damage materials inside the building).
Get a free professional water removal cost estimate in Ohio
Water damage requires an immediate response from a qualified professional. If you have water damage due to flooding, plumbing failure, or any other cause then don't hesitate to contact the experienced professionals at ServiceMaster CDR - Eastlake today.
As your commercial disaster restoration experts, we can remove the water and help you address issues such as bacteria, corrosion, damaged personal property, electrical issues, mold remediation, and potential foundation problems.
We are available 24/7 and we offerfree estimates throughout Northeast Ohio. You can reach us by phone at (440) 577-5444.