Fire Damage Cleanup in Wichita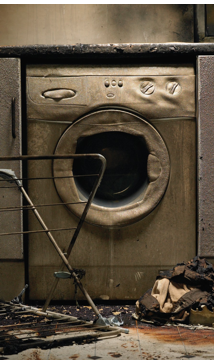 When a fire strikes your home in Wichita, you lose more than your possessions, you also lose your peace of mind. You can count on ServiceMaster Clean in a Wink in Wichita to restore both.
Even when the fire is out, the damage continues to your home and belongings. A lot of the material found in flooring and furniture is synthetic and when burned, it can result in complex chemical reactions. These items can go from cleanable to unsalvageable in just a few days.
The professionals at ServiceMaster Clean in a Wink in Wichita are experts at understanding the chemical combinations that can clean and salvage your belongings after you have experienced fire damage. We have the ability to remove soot from numerous at-risk items in order to avoid additional expenses including:
Brass
Aluminum
Chrome
Marble
Tile and porcelain
Upholstery
Carpets
When you call ServiceMaster Clean in a Wink, we will be on site as soon as possible. Our trained technicians will walk you through the cleanup and restoration process.
Trust the experts at ServiceMaster Clean in a Wink in Wichita.