Water Damage Restoration in Brunswick
Professional Flood damage restoration near you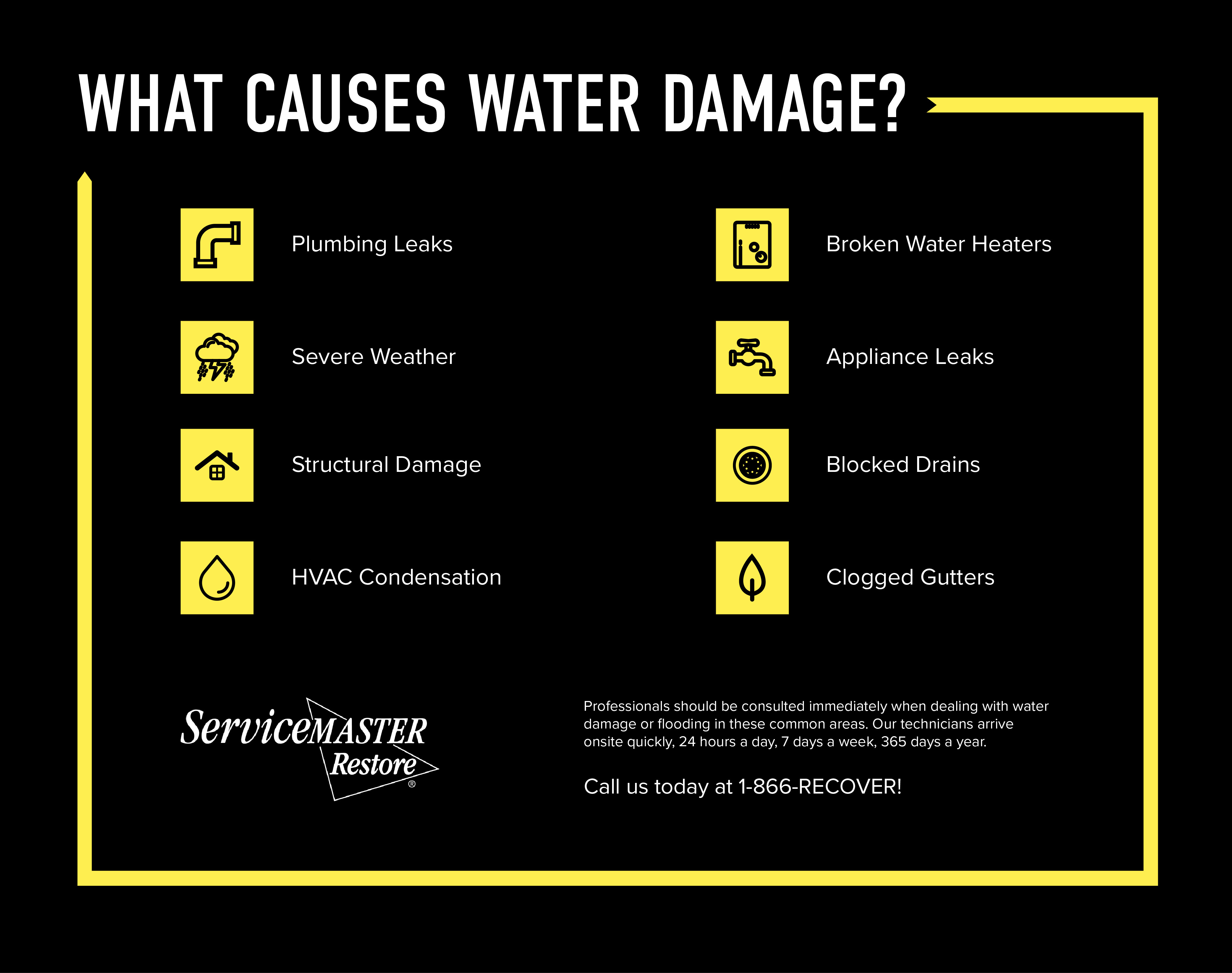 Has water recently damaged your from outside factors? Water damage from floods, broken pipes, sewage backup, and appliance malfunctions are no problem for the team at ServiceMaster Cleaning & Restoration Services. When life leaves you with water damage, our professionals can perform flood cleanup services and water mitigation techniques. Our offerings are designed to accommodate both residential and commercial properties in North Brunswick to get them back to their pre-loss state.
Our Mercer County restoration company is backed by a national brand with over 65 years of expertise. The team at ServiceMaster Cleaning & Restoration Services is ready to assist you at a moment's notice to provide cost-saving water damage restoration. We know your livelihood is tied to your business operations, which is why we do everything in our power to keep your doors open during the restoration process.
when flooding or leaks happen, don't wait to contact our team. we are experts at detecting and repairing water damage in brunswick - call us today at (732) 355-3406 or contact us online!
What Is Water Mitigation?
When your business experiences water damage, we perform water mitigation, which is the process of reducing or preventing further destruction after a flood, a leaking roof, or any number of water-related incidents. We take immediate action to avoid additional damages and minimize costs on your end.
The mitigation process includes the following tasks:
Removing damaged furniture and materials, including drywall and flooring
Cleaning and disinfecting salvageable materials
Ensuring structural stability
Extracting water and drying out commercial-grade equipment
Protecting the property's integrity by boarding up windows and taking other necessary precautions.
5 Common Causes of Water Damage in Middlesex County & Mercer County
Often, damage to your property is unavoidable, and many scenarios result in water damage to your home. Below we've listed five of the most common causes of property damage due to water.
1. Severe Weather
New Brunswick is known to get an average of 48 inches of rainfall, which is more than the national average. This means business owners could be dealing with more severe weather that results in damage due to flooding. Fortunately, we can handle virtually any water damage restoration in New Brunswick to keep your doors open and your business serving the community. Whether you've experienced a flash flood, hurricane, or any other water-related weather event, we can assist you immediately. Even though it's virtually impossible to plan for every possible storm or flood, our restoration experts have the hands-on knowledge to help you deal with water damage and sail through the recovery process.
2. Basement Flooding
Water runoff from rain, roof drainage, or a broken sump pump can find its way into basements and do some severe property damage. A simple crack has the potential to let in water and can wreak serious havoc on floors and walls. ServiceMaster Cleaning & Restoration Services professionals are highly trained and qualified to tackle water damage restoration and flood cleanup services to remove moisture from your basement before any more damage is done.
3. Sewer Backups & Problems
If your commercial or residential property experiences sewer backup issues, they can inevitably lead to flooding and potential health risks. Gray or black water from the sewer can carry dangerous pathogens that result in life-threatening infections or serious illnesses. Our local team in New Brunswick can provide flood cleanup services that help you avoid costly repairs or replacing possessions.
4. Appliance Leaks & Broken Pipes
When you have a leaky faucet, tub, water heater, or other major appliance, the damage can be minimal or significant. Pooling water can collect under hard-to-reach and moist places, resulting in wood damage and mold contamination. Mold growth due to leaking appliances or broken pipes can cause serious health risks and should be addressed immediately by a professional.
5. Clogged Gutters
Clogged gutters can cause water leaks that let water inside your home and result in devastating water damage if left unaddressed. Trapped water and moisture can rot any wood in the vicinity, adding up to expensive property repairs.
Clogged gutters can cause the following issues:
Foundation damage
Gutter damage
Leaky roofs
Flooded landscapes
To mitigate water damage, you should clean out your gutters routinely and thoroughly. If you're already dealing with damage from gutter leaks, contact our pros to determine how we can help.
Where Can Water Hide After Flood Damage?
After a flood, you may think all is well if you don't immediately notice water inside your home, but water can hide in the most unexpected places, including:
Behind walls
Exterior window sills
Under dishwasher
Next to the tub
Under the sink
Under the toilet
When water invades your home and gets trapped in unseen places, it can cause severe damage to your home or business in Middlesex County and Mercer County. Our team wants to ensure you can continue to provide for your family and your employees and care for your customers. With decades of experience, we can minimize business and personal interruptions and get your life moving forward again.
For more information about our water damage restoration in North Brunswick, call (732) 355-3406 today.