Auburn Flooded Basement Cleaning Services
What Causes a Flooded Basement?
Basement floods can be devastating and they can happen in many different ways. It is important to understand the cause of the flooded basement as it determines your eligibility for insurance coverage. Each policy is different but more often than not groundwater is not covered under a homeowner's policy.
The source of the water also determines the type of cleaning and the required sanitizing. A clean water source from a pipe break is different from a septic backup or groundwater flooding your basement.
Floods - Whether it be excessive rainfall or a river that has jumped it banks, floods are some of the most dangerous weather events. Groundwater can flood a basement quickly and damage contents and the structure. It is important to understand your electrical system and how to eliminate the threat of electrocution. Floods typically happen in the spring when there is a heavy rainfall combined with snowmelt. Most insurance policies do not cover groundwater claims. It is important to have proper drainage around a home to minimize the risk of a basement flood.
Snow Melt and Ice Dams - When there is significant snow pack that has drifted onto a home, fallen off the roof or been plowed again a home, there is significant danger of a flooded basement. Water from melting snow or rain will be trapped between the snowbank and the home and find its way into the basement. These claims typically aren't covered as it is considered groundwater.
Pipe breaks - The plumbing in a home or business generally originates in the basement. The boiler, furnace and line to the well or town supply is typically located in a basement. On the ceiling of a basement there almost always is a network of heating pipes and supply lines to sinks as well as appliances. At some point the pipe or the fitting will give out and the basement will flood. Most insurance policies carry coverage for such an event.
Septic backups - Most houses an businesses pump septic waste to a town line or to a leach field. Over time, those pipes can break or become clogged and the effluent will have no place to go. It will back up into the basement and the first thing you may notice is the smell. It is critical to extract and thoroughly sanitize all of the effective surfaces as they have been in contact with dangerous microbials.
If your basement has flooded, reach out to our water restoration experts today! You can call(833) 946-2018 orcontact us online to schedule a service.
What to Do When a Basement Flood Hits
After a basement flood, it is critical to ensure the humidity is eliminated. Basements tend to be damp places without much air movement. That makes them a prime target for mold. Mold can cause serious health issues particularly for children and seniors.
Basement Flooding Protocol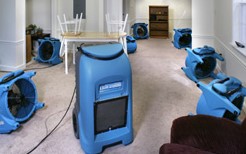 Basement Flood Water Extraction - Standing water in a basement will need to be extracted. At ServiceMaster Fire & Water Restoration we have powerful truck mounted extractors that can remove water from concrete as well as carpet.
Removal of wet materials - Any materials which cannot be dried and salvaged will need to be removed. This will help the drying process as well as make it easier and less expensive or reconstruction.
Removal of wet contents - Contents that are on the floor and aren't able to be salvaged will also be disposed of.

​

Dehumidifying - Our industrial dehumidifiers can each remove tens of gallons of water from the air per day. Combined with the drying effects of our air movement systems, we can dry out many homes in just a few days. We have state-of-the-art metering equipment to monitor the drying process.
Sanitization - this important step ensures that the basement is safe from contaminants and also so it won't grow mold.
As soon as possible after a basement flood, you should call ServiceMaster Fire & Water Restoration. We have emergency crews available 24/7/365 and you will always reach a live person on the phone.
We will arrive onsite and extract the water from your basement. We will the remove any unsalvageable building materials. Then we will dry out the structure with powerful dehumidifiers and air movement systems. We try to have the structure dried out within several days. Contents may require cleaning and sanitization as well.
Looking for basement flood cleaning services? We've got you covered! Call(833) 946-2018 today or fill out ouronline form to get started.
Tips to Minimize Basement Flooding
Check drains - make sure the drains on and around your house are fully functional. French drains that move water away from a house need regular maintenance. It is also advisable to have drains leading away from your home snaked ever few years to ensure they aren't compromised or clogged.
Inspect pipes - Periodically inspect the pipes to see if any are close to failing and if all supply lines are in good working order.
Plow - Keep snow from piling up onto an outside wall.
Keep items off of the basement floor - Sooner or later a basement is going to flood. If you know your home is in danger of a flooded basement is prudent to store valuable items on pallets or risers. Those 3-4 inches give you time to respond to the crisis by have ServiceMaster Fire & Water Restoration extract the water or to shut off the water main.
For any water extraction from a flooded basement call ServiceMaster Fire & Water Restoration. We serve most of southern, central and western Maine – Greater Portland, Oxford County, Rangeley, Sugarloaf, Augusta, Waterville, Bath, Brunswick, Freeport and Yarmouth are all a short trip from our Lewiston Auburn and Falmouth facilities.
Call(833) 946-2018 today for flood cleaning services in Auburn. We are available 24/7 to handle emergencies! You can also reach out to usonline.