Tile and Grout Cleaning for Elgin, IL
Even though tile and grout are durable surfaces, they eventually grow damaged due to the tough environments they are typically utilized in. Over time, the finish on the tile wears thin, and the grout lines become a haven for unwanted debris.
At ServiceMaster Kwik Restore, we provide tile and grout cleaning services to restore these valuable surfaces and enhance their longevity. We work with property owners in the Elgin, IL, area.
Tile and Grout Damage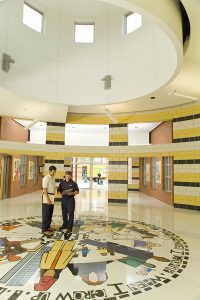 Because tile and grout are used in places exposed to tough conditions (such as kitchens and bathrooms), they are at risk of growing damaged over time. As the finish of the tile fades, stains, scratches, and similar damage can take hold.
When grout lines get broken down, they can house dirt, mildew, mold, and other unwanted debris. The end result is dull, discolored, or damaged tile and grout in need of repair.
At ServiceMaster Kwik Restore, we make use of specialized cleaning equipment and procedures to remove these unwanted materials from your tile and grout, restore damaged areas, and return these surfaces to their original condition.
Restoring Your Tile and Grout
When you choose to work with us, you will receive services provided by some of the most talented technicians in the industry. As a disaster restoration and cleaning services provider, we offer a number of sanitization and repair services following truly disastrous situations.
This experience complements the expertise of our technicians and gives them the unique capability to restore your tile and grout under any condition.
When it comes to our tile and grout cleaning services, we follow a time-tested approach. When you utilize our services, you can expect the following:
A complete inspection of your tile and grout surfaces to determine the extent of the damage and develop an appropriate restoration plan
The pre-treatment of stains and spots with eco-friendly sanitization solutions
Thorough cleaning services utilizing professional-grade equipment and solutions to eliminate dirt and grime from grout lines and tile surfaces
Complete cleaning of baseboards and corners
Drying of tile surfaces, and sealing of grout lines, in order to prevent future damage
We see many property owners allow their tile and grout surfaces to grow damaged even though it lowers the overall quality of the affected room. If you notice your tile surfaces fading, or the tiles themselves becoming loose, it is important that you contact our representatives right away to limit the extent of the damage.
We work with property owners in Elgin, IL, to return their tile and grout surfaces back to their original condition.
To Schedule an Appointment, or to Learn More About Our Tile and Grout Cleaning Services, Call Us at 847-908-5914