Commercial Large Loss for Elgin, IL
In Elgin, IL, office buildings, retail stores, warehouses, and similar structures are at risk of sustaining severe damage from fires, floods, and storms. When this occurs, the consequences can be staggering. Important operational equipment and inventory can be lost, and the buildings themselves can be heavily damaged.
At ServiceMaster Kwik Restore, we provide assistance in these situations through our commercial large loss services. Regardless of the scale of the damage, we will help you get back on your feet by restoring your building and its contents.
Flood and Fire Damage
The two primary situations that we address are excessive levels of water damage, and damage from fire, smoke, and soot. When these events occur, the structural components of your building can be put at risk, and everything within can become permanently damaged. By responding as rapidly as possible, we will help limit the extent of the damage, and return you to standard operations.
Commercial Flood Damage Restoration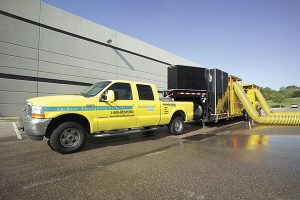 Flood water does a significant amount of damage because of its ability to penetrate porous materials (such as woodwork and drywall). This harms the soaked materials and allows the water to spread to other areas.
Our highly trained technicians not only identify the source of the water but work swiftly to stop it.
We then utilize advanced water extraction and drying equipment to remove excess moisture. From here, we can begin the restoration process.
Commercial Fire Damage Restoration
Fires themselves can obviously cause a substantial amount of damage; however, it is the resulting smoke and soot that can cause the most damage. This is because of their airborne nature and corrosive qualities.
Our technicians understand this, and begin with emergency pre-cleaning services to prevent etching, discoloration, and corrosion.
We make use of specific chemical cleaners and equipment depending on the affected materials. After this, we continue with the restoration of your building and belongings.
Complete Commercial Restoration
Regardless of the type of damage in question, we remain available 24 hours a day, 7 days a week, to respond to emergencies. We perform initial inspections to determine the cause and extent of the damage and will provide emergency pre-cleaning services when necessary to prevent permanent damage.
We remove water, soot, and other harmful elements, and begin restoring any materials that have been affected. This includes structural components of your building, valuable electronics and operating equipment, important documents, personal items, furnishings, and more.
The goal is to return your property back to its original condition in an efficient and effective manner.
We are dedicated to helping commercial property owners in Elgin, IL, recover from disasters.
To Take Advantage of Our Commercial Large Loss Services, Contact Our ServiceMaster Kwik Restore Representatives at 847-908-5914