Tile & Grout Cleaning
Every home has a tile and grout surface in the kitchen or bathroom because these surfaces are durable and highly resistant to moisture.
However, these tough environments can take their toll on tile and grout surfaces.
The finish on the tile wears out over time which can lead to dirt buildup or stains on the surface, and the grout lines are vulnerable to dirt and mildew.
As the dirt and mildew continue to accumulate, the tile surface will look discolored and dull.
ServiceMaster Kwik Restore provides tile and grout cleaning services to clean and restore tile surfaces for homes and buildings in Northern IL and Southern WI area.
Our technicians use advanced cleaning equipment to effectively lift dirt and grime from all types of tile surfaces.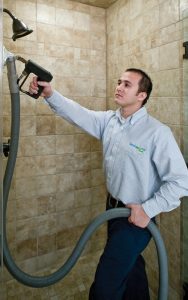 Tiles come in a wide variety of colors and styles which makes tile and grout surfaces an important part of the décor of your kitchen and bathroom.
When these surfaces become dirty or stained, this can dull the color of the tile and affect the appearance of the entire space.
The grout lines are especially vulnerable to mold and mildew growth because they trap moisture.
Cleaning the grout lines and making sure they stay clean is one of the biggest challenges of maintaining these surfaces.
At ServiceMaster Kwik Restore, we have a cleaning process that will make your tile and grout surfaces look brand new.
Our tile and grout cleaning services include the following steps:
Complete inspection of the tile and grout surfaces to determine the best cleaning method.
Spot and stain pre-treatment with eco-friendly cleaning products.
Thorough cleaning with advanced equipment and cleaning products to remove dirt and grime from the tiles and grout lines.
Cleaning of the corners and baseboards.
The tile surfaces are dried and the grout is sealed to protect it from damage and future buildups of dirt and mildew.
The best way to maintain your tile and grout surfaces is with sweeping and mopping, but this will not completely remove dirt or mildew from the tile and grout lines.
If your tile and grout surfaces are looking dirty, stained, or dull, contact ServiceMaster Kwik Restore for our tile and grout cleaning services.
We are serving Lake, McHenry and Kane County in IL and Racine, Kenosha, Milwaukee County in WI.
We will completely restore your tile and grout surfaces back to their original condition with the best cleaning products and equipment of the industry.
Give Us a Call at 847-908-5914 to Schedule an Appointment