Cleaning Services for Kenosha, WI
It is nice to work in an environment that is clean and comfortable, and even better to go home to a spotless house.
The benefits of a clean home are obvious; the house looks good, it's more comfortable, and the living environment is healthier.
A clean office or workspace is just as important because healthy and comfortable workers are more productive and happier to be at work.
A clean office is also a good-looking office which will help customers and visitors get a good impression of your business.
However, the only way to keep your home or office clean is with consistent cleaning to remove dirt, dust, and other buildup.
ServiceMaster Kwik Restore provides professional cleaning services for homes and businesses in Kenosha, WI.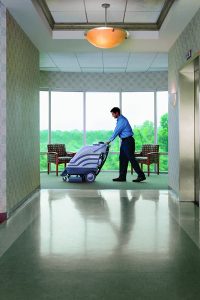 We have been trusted for over 30 years to produce quality results using the latest techniques, cleaning products, and equipment of the industry.
Our in-depth cleaning services effectively remove dirt buildup as well as other allergens that can affect your health and make a home or office look dirty.
You can schedule a one-time cleaning appointment with our professionals to thoroughly clean your home or office, or set up regularly scheduled cleanings to keep your property clean.
In many areas of a home or commercial building, the carpet and furniture are the main features which means that the condition of each can affect the way the space looks.
Carpeting can quickly become dirty or worn out, especially in commercial settings, and the dirt buildup within the carpet fibers can cause damage and discoloration.
Our cleaning professionals at ServiceMaster Kwik Restore can thoroughly clean and restore carpeting and upholstery with our hot water extraction method.
This cleaning method can dislodge and remove dirt and debris from the carpet fibers and upholstery fabric, and restore it to its original appearance.
We can complete our upholstery or carpet cleaning services in just one visit and the treated surfaces will be dry within 24 hours.
There are many areas of a home or commercial building that contain hard surface floors such as wood, vinyl, tile, laminate and others.
These floors are typically installed in certain areas because of their durability and resilience, yet they are still vulnerable to dirt buildup, stains, and wear and tear from heavy foot traffic.
Dirt and other debris gathers within the small crevices of hard surface floors and eventually wears out the adhesives and finish, making the floor vulnerable to further damage and staining.
We provide hard surface floor cleaning to effectively remove dirt and stains from a wide variety of flooring types using advanced cleaning products and equipment.
After the cleaning, we can also refinish your floor to improve its appearance and keep it protected.
We provide the following commercial and residential cleaning services in Kenosha, WI:
Why trust ServiceMaster Kwik Restore:
We screen our technicians carefully during the hiring process
Our technicians receive classroom and on-the-job training
Our cleaning products, techniques, and equipment are the best of the industry
ServiceMaster Kwik Restore provides disaster restoration services as well for the homes and businesses of Kenosha, WI.
If you are interested in our cleaning services for your home or business in the Kenosha, WI area, give us a call at 888 SM-KWIK1 for more information