Disaster Restoration Company – Kenosha, WI
The sanctity of your home is important enough to make sure that you keep it protected from a natural disaster. Yet, no matter what preventative actions you take, a natural disaster such as a flood, storm, or fire can result in serious property damage that requires immediate attention.
If your home or business in Kenosha, WI is damaged by a natural disaster, the professionals of ServiceMaster Kwik Restore can help with our disaster restoration services.
ServiceMaster Kwik Restore is a disaster restoration expert that provides restoration services for homes and businesses in Kenosha, WI and the surrounding areas in Kenosha County.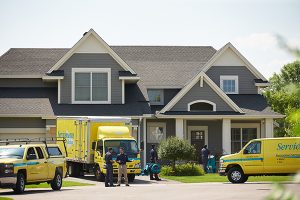 We are one of ServiceMaster's Quality Restoration Vendors (QRV) which means that we pay close attention to detail to ensure quality results. We also take pride in our outstanding customer service which has helped bring some peace of mind to homeowners and business owners alike after a major disaster.
Over our 30 plus years in business, we have developed professional relationships with many insurance providers in the Kenosha, WI area and we can help you through the claims process.
The majority of property damage in homes and commercial buildings is caused by excess water or moisture.
This is because there are many potential sources of excess water including leaks from plumbing fixtures and appliances, pipe bursts, overflows, sewage backups, and weather conditions like rain and natural floods.
The reason water damage is dangerous is because it penetrates porous building materials which leads to serious issues such as structural damage and mold growth.
Our technicians at ServiceMaster Kwik Restore will immediately contain the spread of the water in your home or building and we can also thoroughly dry affected furnishings and building materials with our advanced drying equipment.
Fires in a home or building create very dangerous and complex situations. Once a fire breaks out, it immediately endangers everyone within the building and causes serious damage very quickly.
However, the secondary damage caused by smoke, soot, and corrosive byproducts after the fire is put out can be more extensive than the damage from the fire itself. These byproducts continue to spread after the fire and they can cause permanent damage to surfaces and objects throughout the building.
At ServiceMaster Kwik Restore, our fire damage restoration experts can not only stabilize and repair structural damage, but also clean and restore surfaces and objects affected by smoke and corrosive byproducts with powerful chemical cleaners.
You can contact ServiceMaster Kwik Restore 24 hours a day to provide the following disaster restoration services in Kenosha, WI:
Why trust ServiceMaster Kwik Restore:
We carefully screen each of our technicians and ensure that they are highly trained.
Our technicians receive on the job and classroom training to stay up to date on the latest restoration methods.
We use state-of-the-art cleaning products and equipment.
We are committed to providing quality services and working efficiently to get your home or business repaired and restored.
We also offerprofessional residential and commercial cleaning services in Kenosha, WI.
You can reach ServiceMaster Kwik Restore 24 hours a day at 888 SM-KWIK1 for disaster restoration services in Kenosha, WI and the surrounding areas