Reconstruction Services for Kenosha, WI
When a natural disaster strikes a home or business, there is always a chance for severe damage, but the true extent of the damage is never known until after the disaster occurs.
Several types of disasters, including storms, floods, and fires, can result in severe damage to your property that will require reconstruction services to fix.
Each of these disasters can affect the exterior of your home, including the roof or siding, and cause structural damage that can leave your home or building unstable.
You must call a professional right away to stabilize the building so that the damage does not get any worse.
ServiceMaster Kwik Restore provides complete reconstruction services in Kenosha, WI to stabilize and repair homes and buildings that have sustained severe damage.
Our technicians can cover everything including stabilization, restoration, and complete reconstruction of the damage.
Effective Restoration and Reconstruction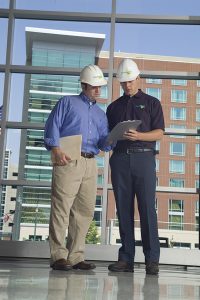 At ServiceMaster Kwik Restore, we have a construction crew on staff that can handle the restoration and repair of major damage to homes and commercial buildings.
We will stabilize the building by boarding it up once we arrive and we will inspect the damage to help us form a complete reconstruction plan.
In the plan, we will account for all repairs needed including exterior and structural damage as well as restoration of the damage caused by water, fire, smoke, or mold.
Our crew will consult with you on certain details such as finishes and designs and we will also have a project manager on-site to answer your questions and update you on the project.
Our ability to provide full restoration and reconstruction services following a disaster will save you the hassle of working with multiple service providers to get your home or business repaired.
We can be your one-stop shop and provide you with peace of mind as our technicians work diligently to get your property back to its original condition efficiently and effectively.
Our reconstruction services include the following:
Full service general contracting
Acquisition of permits and licenses
Plumbing and electrical work
Roof repair and replacement
Carpeting and floor repair
Carpentry and framing
Finish carpentry
Custom woodworking
Painting and staining
Window treatments
Extreme exterior and structural damage can quickly lead to worse damage including collapse, making it important to react immediately if your property experiences this level of damage.
Our technicians at ServiceMaster Kwik Restore will arrive quickly to stabilize your property and get the reconstruction process started so your home or business can be rebuilt in a timely manner.
Give us a call at 888 SM-KWIK1 if You are in Need of Reconstruction Services in Kenosha, WI