Disaster Restoration Company in Milwaukee, WI – ServiceMaster Kwik
If your home is your castle, protecting it from the effects of a disaster should be a major concern.
However, some major disasters such as fires, floods, and storms will still cause property damage no matter what precautions you take.
When this happens to your property in the Milwaukee, WI area, you can trust ServiceMaster Kwik Restore to help restore and repair your home or business with our disaster restoration services.
ServiceMaster Kwik Restore has been providing disaster restoration services as a Quality Restoration Vendor (QRV) for more than 30 years in Milwaukee, WI and the surrounding communities in Racine andKenosha counties.
We pride ourselves on our attention to detail on every project as well as our customer service which helps bring order in the aftermath of a disaster.
As a long-time service provider in the Milwaukee, WI area, we have formed working relationships with many local insurance companies to help you file your claims and coordinate payments.
We are widely recommended by local insurance providers who understand our commitment to helping those who have been affected by a disaster.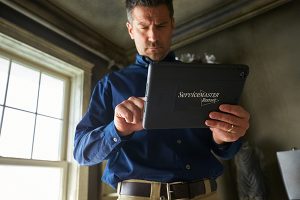 Water damage may not seem like a big issue in some cases, but it has the potential to become a major problem.
Water can get into a home or building due to flooding, leaks, burst pipes, and overflows and absorbent building materials allow it to spread further and deeper into the structure of the building.
If left unchecked, it is possible to experience serious structural damage or mold growth as a result of excess water.
ServiceMaster Kwik Restore is available 24 hours a day to provide emergency response for flooding and leaks and stop the spread of the water.
Fires are perhaps the most devastating disasters that can occur within a home or business. They happen very quickly, put lives in danger, and cause extensive damage throughout the building.
While the fire itself often causes considerable damage, the worst damage happens after the fire as the leftover smoke, soot, and corrosive byproducts continue to spread.
Our professionals at ServiceMaster Kwik Restore can effectively restore the damage caused by fire and clean up surfaces and objects affected by soot and corrosive byproducts before the damage becomes permanent.
We use powerful and effective cleaners to restore a wide range of household materials including porcelain, tile, stainless steel, carpeting, furniture, and upholstery.
ServiceMaster Kwik Restore is available 24/7 to respond to disaster emergencies in Milwaukee, WI and the surrounding areas. Our technicians are highly trained to provide the following services:
Why call ServiceMaster Kwik Restore:
Our technicians are carefully screened in the hiring process.
Each technician receives further training both on the job and in the classroom.
Our cleaning products and equipment are the best available in the industry.
We are dedicated to providing excellent customer service and we work diligently to bring your home or building back to its previous condition.
We also provide professional cleaning services to homes and businesses in Milwaukee, WI and the surrounding areas.
For emergency disaster restoration for your home or business in Milwaukee, WI and the surrounding areas in Racine and Kenosha counties, give us a call 24/7 at 888 SM-KWIK1