Hoarding Cleaning – Milwaukee, WI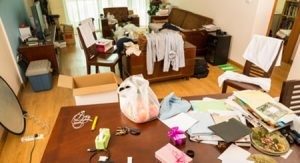 Hoarding is both a complicated and sensitive issue that can put you and your loved ones at risk. Not only does it create serious health concerns, but it can create dangerous levels of clutter in the home, as well.
It all stems from an individual's inability to throw away unnecessary items, which is often the result of extreme anxiety and stress.
At the end of the day, it is a dangerous habit that should be addressed swiftly.
We provide full hoarding cleaning services here at ServiceMaster Kwik Restore, and are proud to work with affected individuals and family members of hoarders in the Milwaukee, WI, area.
In hoarding scenarios, areas of a home are often left untouched for extended periods of time. This can present a serious health concern because of dust buildup and potential mold and bacterial growth, which can trigger allergic reactions and even cause respiratory infections. This is simply one of many reasons why hoarding habits need to be addressed.
Another increased risk is that of a fire. To make matters worse, if a fire does take place, hoarded items will simply act as fuel. This means that more damage will occur to your property, and everybody that lives there will be at greater risk.
Finally, in any emergency scenario, it is important to be able to move freely to multiple exits as required. When hoarded items are blocking avenues of escape, there is a much greater risk of severe injury occurring to you or a loved one.
Even in normal conditions, hoarded items are often loose and unstable, and present a falling or tripping hazard that can seriously harm individuals.
It is an unfortunate fact that hoarding cleaning usually begins when a trusted friend or family member intervenes, and helps the hoarder realize the importance of cleaning their home.
Most of the time, the hoarder is too embarrassed to seek help by themselves. We understand how sensitive of a topic hoarding cleaning can be, and always work with the utmost compassion and respect.
When you choose to work with us here at ServiceMaster Kwik Restore, and utilize our hoarding cleaning services, you can expect the following:
Clutter Removal: We remove all unwanted items, but make sure to consult the affected individual before doing so.
Decontamination: After unnecessary items are removed, we fully clean and sanitize the entire home in order to restore it to livable conditions.
Deodorization: Odors tend to build up in hoarding scenarios, so we provide full deodorization services, as well.
Proper Disposal: We make sure that unwanted items are properly disposed of, recycled, or donated, and we transport any biohazard materials and medical waste to proper disposal facilities.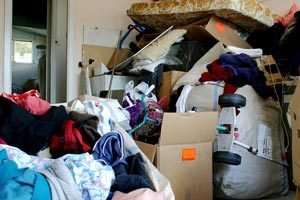 We understand that it can be a big step to simply invite cleaning crews out to your property, so we always work to establish a level of trust before disposing of any items. Only when this is established will we proceed with our hoarding cleaning services.
Our technicians are trained to utilize state-of-the-art cleaning equipment and methodologies, and are uniquely qualified to handle biohazard materials found along the way.
We fully comply with rules and regulations set by the EPA, OSHA, and the Department of Transportation.
We understand that this can be a very difficult and stressful time, and are proud to assist affected individuals and families in the Milwaukee, WI, area. For areas of the home that are less impacted then the rest, we offer a separate carpet and upholstery cleaning service to ensure a "like new" living environment.
If you are considering taking advantage of our hoarding cleaning services here at ServiceMaster Kwik Restore, then we encourage you to give us a call.
We are available 24 hours a day at 888 SM-KWIK1, and will get a highly trained, yet compassionate, team of technicians out to your property in short order