Reconstruction Services for Milwaukee, WI
When a natural disaster occurs, you can never know for sure the extent of the damage it will cause until it is over.
Natural disasters such as fires, storms, and floods are dangerous because they can each cause severe exterior and structural damage that can put homes and buildings in danger of collapsing.
It is important for buildings in this condition to be stabilized right away to prevent further damage that can lead to collapse.
At ServiceMaster Kwik Restore, our professionals can stabilize heavily damaged buildings and provide complete reconstruction services to rebuild homes and buildings in Milwaukee, WI.
Our technicians are ready to handle every step of the construction process from the stabilization and planning through to the final touches.
One-Stop Restoration and Reconstruction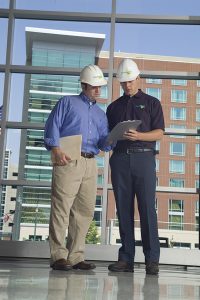 At ServiceMaster Kwik Restore, we specialize in disaster restoration and we employ a complete construction crew that can carry out the reconstruction of heavily damaged buildings from start to finish.
Our ability to handle your restoration and construction needs makes us your one-stop shop in the event of severe damage, so you don't have to deal with multiple service providers to get your home or building restored.
We will stabilize your building immediately upon our arrival to prevent further damage and do a full inspection of your property to help us form an effective construction plan.
Our plan will cover all of the restoration and repairs needed to get your home or building back to its pre-disaster state.
Our technicians have the expertise and the equipment to provide effective and timely reconstruction services.
The project manager assigned to your project will consult with you on certain elements such as designs and finishes, answer your questions about the project, and keep you updated on the timetable for completion.
By acting as your one-stop stop after such a severe disaster, we can provide you with much needed peace of mind.
Experiencing this level of damage to your property can be overwhelming and painful, and we help alleviate this by simplifying the process to get your home or building rebuilt.
Our technicians will be there for you every step of the reconstruction until the project is completed.
Our complete reconstruction services will cover the following:
Full general contracting
Acquisition of permits and licenses
Carpet and flooring repair
Roof repair and replacement
Plumbing and electrical
Window treatments
Carpentry and framing
Finish carpentry
Custom woodworking
Painting and staining
If your home or business in Milwaukee, WI has experienced severe exterior or structural damage from a disaster, do not hesitate to contact ServiceMaster Kwik Restore for reconstruction services.
You can count on our technicians to effectively stabilize the damage and quickly start the reconstruction process to get your home or building rebuilt.
You Can Reach Us 24 Hours a Day at 888 SM-KWIK1 for Emergency Reconstruction Services