Tile and Grout Cleaning – Milwaukee, WI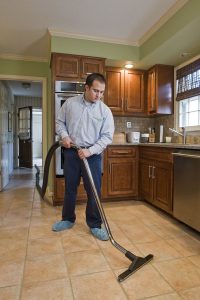 Tile and grout are hallmarks of kitchens and bathrooms because of their durability and resistance to moisture; however, being exposed to these tough conditions on a regular basis will inevitably result in gradual damage.
Over time, tile finish will wear off, and dirt and stains will begin to appear. Grout lines will also become vulnerable to mildew and debris. This accumulation further adds to discoloration and damage.
ServiceMaster Kwik Restore provides full tile and grout cleaning services for property owners in the Milwaukee, WI, area. Utilizing our industry-best cleaning equipment and methodologies, we will leave your tile and grout looking as good as new.
In kitchens and bathrooms, tile and grout are specifically selected to match the color scheme and design of the room. This means that as it becomes dirty with stains, debris, and general discoloration, these areas of your home will lose their intended appeal.
To make matters worse, as tile finish fades and grout grows vulnerable to outside elements, there is a greater likelihood that mold and mildew will appear between tiles. This is because grout lines are excellent at trapping moisture when damaged.
In order to prevent further disasters from occurring in your home due to mold growth, it is critical that you tackle tile and grout damage quickly.
When you select us here at ServiceMaster Kwik Restore for our tile and grout cleaning services, you can expect the following:
Swift Response and Initial Inspection: We are available 24 hours a day to take your call, and can get a highly trained team of technicians to your location in short order. When we arrive, our first step is to perform a full inspection of affected areas, and determine the best course of action.
Pre-Treatment: We provide pre-treatment of spots and stains with our eco-friendly cleaning products.
Primary Cleaning: We then proceed to our in-depth cleaning by utilizing our advanced sanitation equipment, products, and processes. We remove all traces of dirt and grime from tiles and grout lines.
Post-Cleaning: We follow through by cleaning hard-to-reach corners and baseboards.
Drying and Sealing: We fully dry tile surfaces, and re-seal the grout in order to protect it from future damage.
Final Inspection: We perform a final inspection to ensure that your tile and grout is restored to the fullest extent possible.
Sweeping and mopping your tile and grout surfaces regularly are proactive measures that you can take between professional cleanings. That being said, only a professional cleaning will fully remove dirt, debris, mildew, and mold from tile and grout lines.
We are available 24 hours a day to take your call and set up an appointment for your home or business in the Milwaukee, WI, area.
To Learn More About Our Tile and Grout Cleaning Services here at ServiceMaster Kwik Restore, Give Us a Call at 888 SM-KWIK1