Trauma and Crime Scene Cleaning – Milwaukee, WI
While television shows such as NCIS and CSI are great for entertainment, their real-life variations can leave families traumatized. In this case, we are referring to families that are unfortunate enough to have a serious accident or violent crime occur on their property. This is extremely rare, but it is critical that you are aware of what to do and expect in these situations.
Sites that have experienced a traumatic accident or violent crime are both unnerving and dangerous. Biohazard materials (such as blood and bodily fluids) are notorious for spreading diseases and infections if not handled properly.
Removing biohazard material from a site is such a serious task that law enforcement personnel and EMTs are not even trained to do it. This is why we are specifically licensed to handle such situations here at ServiceMaster Kwik Restore.
While law enforcement personnel and EMTs take care of the individuals harmed in the event, it is absolutely critical for health reasons that you contact us to provide trauma and crime scene cleaning services. We proudly work with property owners in the Milwaukee, WI, area.
Blood, bodily fluids, and tissues must be treated as infectious materials because they very well can be. Harmful viruses and bacteria can thrive in these substances, and any contact with them can spread these harmful agents. Police officers and EMTs are not trained to handle these materials safely, which is why you must call our professionals.
When you contact us here at ServiceMaster Kwik Restore for our trauma and crime scene cleaning services, you can expect the following:
Timely Response and Initial Inspection: We are available 24 hours a day to take your call, and we will get a specialized team of technicians to the trauma scene on your property as quickly as possible.
Removal of Materials: We completely remove all harmful biohazard materials from your property.
Site Sanitation: We thoroughly clean and disinfect the scene in order to reduce the risk of spreading any diseases or infections.
Safe Disposal: While adhering to proper protocols, we safely dispose of all biohazard materials at a licensed medical waste facility.
Compliance: We comply with all local, state, and federal government health regulations.
Final Inspection: We perform a final inspection to ensure that the site is successfully returned to its natural state, and that all physical evidence of the tragedy is eliminated.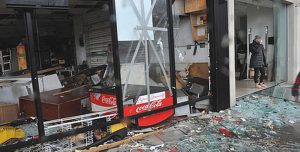 In some cases, loved ones are the victims of these tragic situations. We fully understand this, and always work with the utmost respect and compassion.
We are proud of the way in which our professional technicians lend a helping hand and ear when they can.
We also arrive in unmarked vehicles to protect your privacy, and try to provide you with as much peace of mind as possible.
If you are in need of trauma and crime scene cleaning services, then we encourage you to give us a call here at ServiceMaster Kwik Restore.
We can be reached at 888 SM-KWIK1, and are available 24/7. We respond as quickly as we can to these emergency situations in the Milwaukee, WI, area