Water Damage Restoration In Milwaukee, WI
Emergency Water Damage Mitigation & Repair Services Near You
There are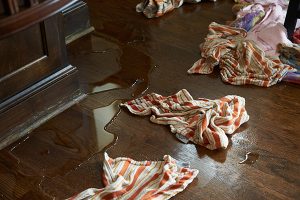 many causes of water damage in homes and businesses. It can happen as a result of flooding, leaks, heavy rain, burst pipes, and sewage backups, for example.
However, no matter the cause or severity, it is important that you contact disaster restoration professionals right away if your property does experience water damage.
For reliable water damage restoration in Milwaukee, WI, call us at (262) 235-7076 or contact us online today.
Structural Water Damage Repair
If left unchecked, even minor leaks can spread and result in significant structural damage or mold growth. Here at ServiceMaster Kwik Restore, we offer water damage restoration services in the Milwaukee, WI, area. Our ServiceMaster flood cleanup crews respond quickly in order to prevent water from spreading and affecting additional areas in your home or business.
Our waster restoration technicians use industry-best drying and dehumidification equipment, as well as state-of-the-art methodologies, to ensure that all water and excess moisture is removed from your property. The affected areas will be restored to their original condition.
The Damage Water Can Cause to a Property
The importance of responding swiftly to any amount of water damage cannot be overstated. This is because inaction almost always leads to greater, and more expensive, problems.
For example, what looks to be a simple leak can work its way through porous materials, such as wood, drywall, flooring, and insulation. If left unchecked, this can lead to warping, buckling, and even severe structural damage.
Mold Growth After Water Damage
Structural damage is not the only result of ignored water damage. Moist environments, paired with organic food sources, are perfect locations for mold to grow. Once mold takes hold, it inevitably spreads to other locations and poses a significant health risk to you and your loved ones.
For this reason, all of our ServiceMaster water damage restoration teams are equipped to perform complete mold remediation services alongside the water cleanup process.
Complete Water Restoration in Milwaukee, WI
The flood restoration and water damage repair crews at ServiceMaster Kwik Restore are IICRC certified and trained to handle the most disastrous scenarios. This is the type of experience and expertise needed to ensure lingering headaches don't affect residents of Milwaukee, WI when it comes to water damage.
Our Water Damage Restoration Services:
Timely Response and Initial Inspection: When your property experiences water damage, time is of the essence. We are available 24 hours a day, and will get a team of flood cleanup technicians to your location in short order. When we arrive, our teams will begin an initial inspection in order to understand the full extent of the water damage.
Water Extraction and Drying: All standing water and excess moisture are then removed from your property. Utilizing our professional drying and dehumidification equipment, we strategically dry affected areas, floors, furniture, and structural elements.
Reinstallation and Cleaning: Once affected areas and belongings have been properly sanitized, we move furniture and other belongings back to their original locations.
Structural Repairs: We also repair structural elements that have been damaged, such as woodwork, drywall, and flooring.
Final Inspection: We perform a final inspection of water damage repairs in order to ensure that your property is restored to its original condition.
Trusted Water Damage Restoration Company in Milwaukee, WI
We understand that property damage can be a scary situation.
Rest assured, our technicians here at ServiceMaster Kwik Restore provide the best water damage restoration services in Milwaukee, WI and follow all IICRC S-500 guidelines.
24/7 Emergency Services
We provide anti-microbial applications to prevent mold after the water restoration process is completed, and as well as corrosion control, if necessary. We are available 24 hours a day, and happily service homes and businesses in the greater Milwaukee, WI, area.
To learn more about our water damage restoration services in Milwaukee, call us at (262) 235-7076 or contact us online today.