Commercial and Residential Cleaning Services for Racine, WI
Having a clean living or working environment is very important. A clean environment, whether in the home or office, is healthier, more comfortable, and more visually appealing. Keeping an office or workspace clean is especially beneficial because a healthier and more comfortable working environment contributes to higher morale and productivity among employees. Also, your customers, clients, and visitors will get a much better impression of your business if your office or facility is in pristine condition. It takes a consistent effort to keep your home or office clean as dirt, dust, and other allergens need to be removed regularly to maintain a clean environment.
At ServiceMaster Kwik Restore, we are trained and equipped to provide a variety of cleaning services for the homes and businesses of Racine, WI. Our technicians can thoroughly clean homes, offices, and other commercial buildings using the same proven methods, cleaning products, and equipment that we have been using for the past 30 years. We can remove buildups of dirt, dust, and other common allergens to help improve the appearance, comfort, and indoor air quality of your home or building. You can contact us to schedule a one-time cleaning service, or create a schedule of regular cleaning services for consistent maintenance from our staff.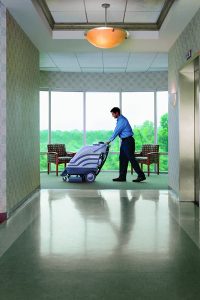 In both homes and commercial buildings, the carpeting and furniture are important features that serve a practical purpose and contribute to the appearance of the space. However, both the carpeting and the furniture upholstery can quickly become worn out as daily use causes a buildup of dirt and debris in the fabric. This buildup of debris can result in fading and general wear and tear of the carpet or upholstery, as well as deterioration that can affect its longevity. At ServiceMaster Kwik Restore, we use the hot water extraction method to deep clean carpeting and upholstery fabric, and restore its original appearance. With this cleaning method, we can loosen embedded debris with a solution of hot water and a mild detergent, and immediately extract the solution and the debris from the fabric. Your carpet or furniture will be dry within 24 hours and ready for use.
Hard surface floors are found in many areas of homes and commercial buildings because they are chosen for areas that require a more durable flooring option. While hard surface floors are generally more resilient than carpeting, they are still vulnerable to dirt buildup and wear and tear from consistent use. Hard flooring such as wood, laminate, tile, and vinyl have small spaces between the tiles or panels where dirt and debris may build up. These buildups not only wear out the adhesives that keep the floor together, but also the finish that protects from dirt and stains. Our technicians can deep clean and restore any type of hard surface flooring with our advanced cleaning equipment and methods. We can remove built up debris from the surface and crevices, as well as apply a new finish to protect from further buildup and stains.
We provide the following cleaning services for homes and businesses in Racine, WI:
Air duct cleaning
Hard surface floor cleaning
Carpet and upholstery cleaning
Tile and grout cleaning
Post construction cleaning
Crime scene cleaning
Hoarding cleaning
Why call ServiceMaster Kwik Restore:
Our technicians go through an extensive screening process.
We provide further classroom and on the job training for our technicians.
We use only the best cleaning techniques, products, and equipment of the industry.
You can contact ServiceMaster Kwik Restore at 847-908-5914 for more information about our cleaning services, or to schedule an appointment for your home or business in Racine, WI.
ServiceMaster Kwik Restore also provides complete disaster restoration services in Racine, WI and the surrounding areas.