TILE & GROUT CLEANING
Maintaining your tile and grout is more difficult than it seems. Over time, tiles become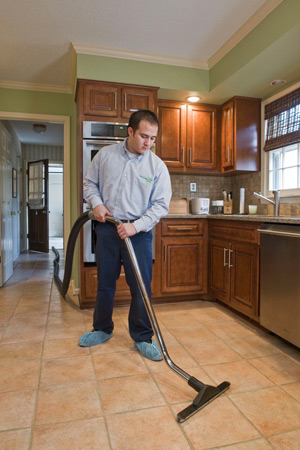 discolored from foot traffic as dirt settles into the scratches on the surface of the tiles. Grout, which is porous, generally becomes discolored from soils and spills becoming trapped within its cracks and tiny holes. Our professionally trained and experienced technicians can thoroughly clean your tile and grout. With the use of our specialized tile-cleaning tools and equipment, we'll rejuvenate your tiles, bringing back their original coloring and eliminate the accumulation of any soils and spills trapped in your grout. After deep cleaning, we can also seal the tile and grout to keep the fresh and clean appearance much longer.
Mopping your tile floors regularly is important. However, general maintenance cannot remove the dirt that settles beneath the surface. Each type of tile floor has unique cleaning needs. Our technicians specialize in a variety of materials including ceramic, porcelain, limestone and travertine. Trust ServiceMaster of Germantown with all of your tile cleaning needs. We'll work around your schedule to remove dirt, grime and mold.
Contact us at (901) 479-1672.
Once our team arrives onsite, you can expect:
Step 1: Inspection
We'll thoroughly inspect your tile floors to determine the correct cleaning method.
Step 2: Pre-Cleaning
Our team will spot clean stains with our specialized cleaning products.
Step 3: Cleaning
Using high-pressure cleaning and extraction, we'll deep clean your flooring to remove dirt, grime, stains and more.
Step 4: Drying
Our team will thoroughly dry your tile floors.
Step 5: Floor Finishes
We'll seal your grout to prevent future stains and to extend the life of your tile.