UPHOLSTERY CLEANING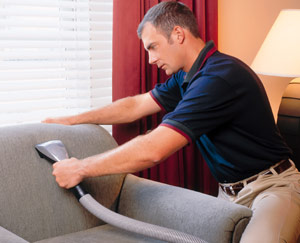 Upholstered furnishings and fabrics endure heavy use and can accumulate dust, dirt, and soil quite easily. With time and daily use, upholstered furniture can wear, colors may fade, and look dreary. Rather than spending money to update your furniture, consider upholstery cleaning services to restore and rejuvenate life back into your upholstered furniture.
The experts at ServiceMaster of Germantown are the professionals to trust. Our professional technicians will thoroughly and effectively clean your upholstered furniture and fabric items with the utmost detail.
For upholstery cleaning services, our expert cleaning technicians will clean your fabrics and furnishings and utilizing specially designed cleaning products, equipment, and advanced techniques. When we treat your upholstered items, we'll do so with care and respect, while paying close attention to detail to ensure high-quality results.