Tile & Grout Cleaning Services
Keeping grout clean is an ongoing challenge. When those porous grout lines trap dirt, your tile flooring looks soiled and dull. Scrubbing and mopping do not generally yield the results needed for a deep clean. Because grout is porous and absorbs all the dirt and debris on it, mopping only removes surface soil. It does not remove the embedded dirt that causes the grout to become dull.
At ServiceMaster Clean®, our tile and grout cleaning process keeps your grout looking its best. Our grout-sealing product helps maintain the cleaned grout for months. It can make your regular home maintenance more effective.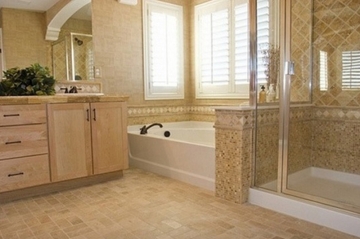 There are benefits beyond just improving the appearance of tile and grout. Professional cleaning by ServiceMaster Recovery By Close has several benefits:
It can help extend the life of floors by removing debris that can weaken the tiles
Our cleaning is safe for tile floors of all types. This includes ceramic, porcelain, travertine and limestone.
It helps you avoid the expense and inconvenience of completely replacing tile floors
We clean ceramic and porcelain tile. We specialize in kitchens, baths, countertops and other tiled areas of your home.
Put away that toothbrush and bottle of grout cleaner. Our tile and grout experts can clean your tile and grout more thoroughly and with less hassle. Retail grout cleaners only clean the surface of the grout. A stronger cleaning method is the only way to truly deep clean porous grout. We use specialized, high-powered equipment and products that remove and extract soil from deep within grout. If grout is cleaned improperly over a period of time, it becomes permanently discolored. It can only be restored by recoloring, which is an expensive process. Don't waste time on ineffective cleaners; call ServiceMaster Clean.
ServiceMaster Clean has been providing an unparalleled level of clean for more than 60 years. Our research and development team works to ensure that we are using state-of-the-art products and processes for your tile and grout. We work to your specifications and guarantee the job is done right.
What to expect with our professional services:
Step 1: A technician will conduct a preliminary inspection of your tiled areas to determine the best cleaning method
Step 2: Spots and stains will be pre-sprayed using state-of-the-art cleaning products
Step 3: The technician uses shielded high-pressure cleaning and extraction. This removes dirt and ground-in soil. This cleaning method also provides a clean-water rinse and extracts excess water
Step 4: Care is taken to clean near all corners and baseboards
Step 5: All tiled areas are thoroughly dried
Step 6: The technician seals all grout lines to preserve cleanliness and prevent long-term damage. (This service is optional)
For a 300 square-foot area, cleaning generally takes 60 to 90 minutes. If you choose to have the grout sealed, we recommend waiting 24 hours after rinsing to apply sealer so the sealer will adhere properly. Grout sealing itself takes two to three hours. Time varies based on tile size, the amount of soil in the grout and room configuration.
Green Cleaning solutions are used in our Tile and Grout Service. Green Cleaning offers many benefits including:
Reduced Environmental Impact
We focus on doing the right thing. At ServiceMaster Recovery By Close, we believe in offering products and processes that do more than clean your home. We also want to have less environmental impact on the environment in which we live.
Odorless
ServiceMaster Clean® Green For® products are just as effective as traditional cleaning products. But the good news is that they have no fragrances or solvents. This means you don't have to worry about a strong "detergent" smell being left behind.
Proprietary
We offer tile and grout cleaning products certified green by leading environmental organizations. These organizations include Environmental Choice and Green Seal.
To properly maintain your tile floors, vacuum or sweep and mop them weekly, as well as spot clean when needed. To keep your floors looking their best, we recommend a professional cleaning every year. Although it can also depend on traffic, pets, children and regular floor maintenance.
Please complete the form to the right for additional information on our tile and grout cleaning services. To schedule an appointment, call ServiceMaster Recovery By Close at (585) 699-1261. Our team will work with you to schedule a time convenient for you.