Packout and Storage Services in Rochester
When fire damage or water damage strikes in your home or business, it may be necessary to remove your contents and furnishings to prevent further damage and loss. The professionals at ServiceMaster Recovery By Close are experienced in carefully handling, cleaning, and storing your belongings. When it's necessary to remove your home or business contents, we have a proven process for inventorying, packing, and safely and securely transporting your contents and furniture to a safe location. At our warehouse, your items will be thoroughly cleaned, restored, deodorized, re-packed, and stored until the structural restoration is complete.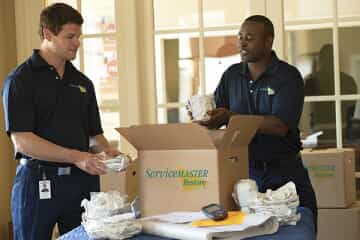 ServiceMaster Recovery By Close's technicians are fully-trained in handling packout services, and ensure your cherished possessions will be handled carefully and professionally. Our handheld mobile computer will automate our inventory process and help you track the status of your belongings from removal to replacement.
During the packout and contents restoration process in Rochester, ServiceMaster Restore will:
Inventory, pack, and transport your belongings to our climate controlled warehouse

Provide you with a printed copy of the inventory as items are moved to our warehouse
Restore, clean, deodorize, re-pack, and store items in our warehouse as necessary and agreed upon
Track and document contents throughout the restoration process
Arrange for re-delivery of items
If you're dealing with a disaster, and you need packout and storage services in Rochester, you can trust ServiceMaster Recovery By Close to treat your belongings carefully and respectfully. We offer emergency services, quick response time, and work with all major insurance companies.
If you need immediate assistance, please contact us at (585) 699-1261 and we will quickly assist you.