Burlington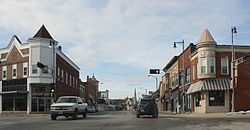 Whether you are in need of flood damage restoration, fire damage restoration or mold remediation in Burlington, you can trust ServiceMaster. Highly trained and experienced, our professionals respond immediately to meet every challenge with professionalism, compassion and reliability. We are fully licensed, certified and insured, so you can rest assured that we will get your property looking its best. After many years in business and thousands of homes restored, ServiceMaster Burlington knows how to handle any emergency situation.
Flood damage restoration
When flood damage threatens your Burlington home, there is no time to waste. Every minute counts and you want highly skilled and experienced people you can trust. ServiceMaster provides Burlington residents with fast, efficient, and professional water restoration services. Recognizing the trauma that a lot of people suffer, we work professionally, compassionately, and fast to contain the water. With state-of-the-art equipment for dehumidifying, deodorizing, and disinfecting, we restore your property with minimal disruption so you can get back to you normal life.
Fire and smoke restoration
If your life is interrupted by fire or smoke damage, turn to ServiceMaster Burlington for fast, reliable and professional, restoration services that you can trust. At ServiceMaster, we understand the devastation and hardship fire can cause to your home or business. Whatever the cause may be, our professionals have the expertise, experience and equipment to restore your home or business to its pre-fire state. We won't call it a day until you tell us we have met your expectations. Our pros respect all of the property's contents – handling your belonging with great care.
Mold detection & removal
Molds thrive in moist places created by a flood, broken pipe, slow leak, or high humidity. If you suspect your home has molds, we are the mold remediation company to turn to. Our experts have completed mold remediation training along with detailed instruction in the proper processes for handling mold claims. No matter how unwelcoming your home looks, don't despair. We have worked miracles on all kinds of Burlington properties before, and yours will be fine once we are through. They will also advise you how to prevent the development of molds in future.
When you need an emergency restoration service in Burlington, we are the restoration company to turn to. We know that when your property has been flooded, burned, or infested with mold, you want immediate action. We are on call 24/7 and we will show up at your home or business within minutes of receiving your call.