Commercial Water Damage Restoration Service in Akron
Expert Water Mitigation Company Near You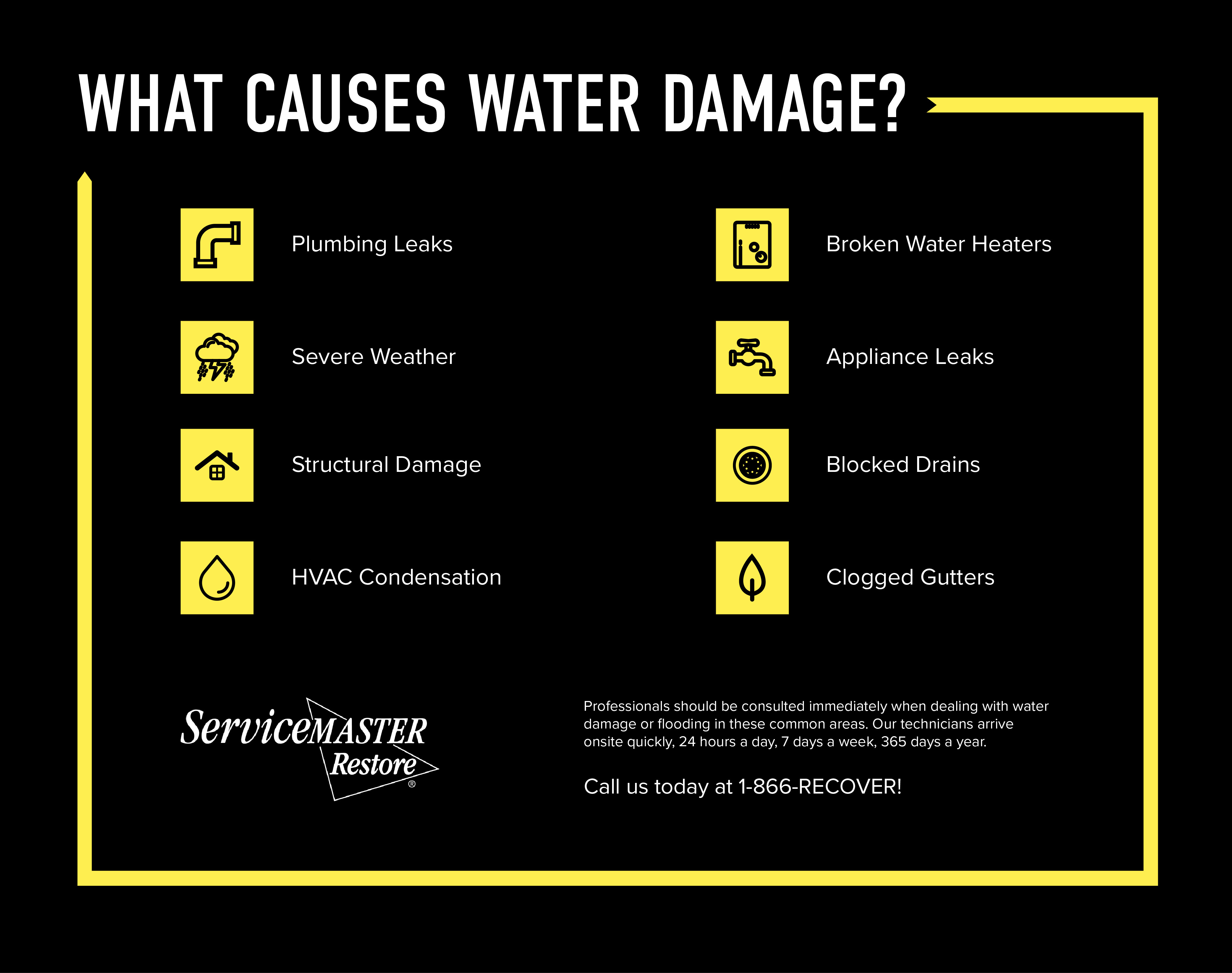 Our community sits upstream of the Cuyahoga River. This means we're at moderate risk of flooding over the next several years. According to research, there's more than a 26% chance that flood damage will impact 4,000+ properties. Could yours be one of them?
Trust ServiceMaster by Disaster Recon - Akron for water damage restoration services in Akron. We mitigate water damage from flooding, bad weather, burst pipes, or other water-related disasters.
Call ServiceMaster by Disaster Recon - Akron at(330) 624-9657 to get in touch with our Akron restoration service experts today.
A Detailed & Reliable Process for Commercial Water DAmage Cleanup
You want to keep your commercial property safe. We face that challenge with our thorough recovery process. We help mitigate residual damage and clean up affected areas.
Our Akron water damage pros follow a restoration process that includes:
Containing and marking off severely damaged areas
Removing sitting water using advanced equipment
Assessing any mold growth and presenting options for removal
Deodorizing rooms and promoting good air quality
Evaluating structural elements for damage
Water-related destruction can cost upwards of $100,000 to tackle if left untreated. Our restoration service specialists in Akron are standing by 24/7. We keep the recovery running smoothly so that you can get back to business as usual.
If you need water damage restoration services in Akron, turn to our expert team!Contact us online or call(330) 624-9657.
How Long Does Water Damage Restoration Take?
Water damage can be devastating to both your personal items and your entire property. The amount of time needed for the restoration process largely depends on the category, extent, and age of the water damage.
Our water restoration professionals are trained to assess any potential hazards or contamination, evaluate the level of mitigation needed, and then begin the work to return your property to its original condition. Depending on the severity of the water damage and if structural repairs need to be done, the length of time it takes for complete restoration varies between a few days to weeks or even months.
It is crucial to contact specialists as soon as possible because leaving standing water untreated allows mold, mildew, and other dangerous bacteria to grow which can lead to health hazards from long-term complications.
Why Choose ServiceMaster by Disaster Recon - Akron
We are a locally owned business. So we understand that you can't risk shutting down your business for an extended period. Our licensed professionals deliver superior quality commercial restoration. Our solutions reduce interruptions to your business operations.
We're available 24 hours a day, 7 days a week, 365 days a year. We give you access to water damage services when you need them most. We use a rapid response system that ensures you'll get a reply to your query within a couple of hours. From there, we're formulating a plan to support your situation and reduce further damage.
For emergency service, call(330) 624-9657. Orcontact us online for more information about our water damage restoration solutions.
Frequently Asked Questions
PROVIDING YOU WITH ALL THE INFORMATION YOU'RE LOOKING FOR
How Much Does It Cost To Repair Water Damage?

The cost of repairing water damage depends on a variety of factors, including the severity and extent of the damage, as well as any additional repair or replacement costs that may be necessary. In general, repairs for minor water damage can range from $250 to $1,500; however, more serious cases can easily exceed several thousand dollars.




When assessing the total cost of repairing water damage it is important to consider all potential causes and consequences. For instance, if flooding has occurred due to a broken pipe then not only will you need to fix this issue but also replace any damaged items such as carpets or furniture which were affected by the floodwater. Similarly, if mold has developed due to prolonged exposure then professional remediation services may be required in order to reduce health risks associated with long-term exposure. Additionally, there are other possible expenses such as replacing drywall which could have been weakened by moisture infiltration over time or even hiring an electrician should electrical wiring become wet during a flood event resulting in short-circuiting issues at home.