Water Damage Restoration and Flood Cleanup in Omaha, NE
ServiceMaster Restoration Services
Water damage is the most reoccurring problem for homes and buildings and if you do not react to minor water damage, it could end up being a major issue. Properties typically experience excess water due to natural conditions like rain and flooding, but internal problems including burst pipes, overflows, leaking appliances, and sewage backups can also cause water damage at any time. The reason excess water has the potential to cause major damage is because it becomes absorbed into most building materials, which allows it to spread further and deeper.
At ServiceMaster Restoration Services, we provide water damage restoration services to help homes and businesses in Omaha, NE that have experienced damage from flooding or excess water. Our technicians will immediately contain the spread of the water, assess the extent of the damage, and restore the damaged areas and materials with our water extraction and drying equipment.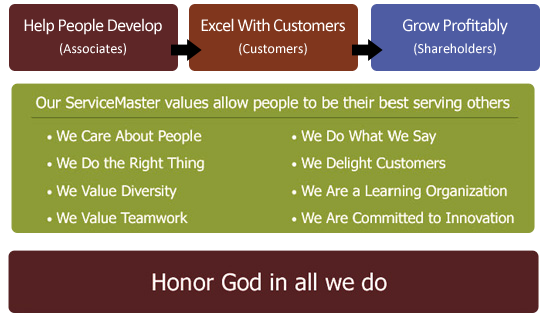 Trusted Water Damage Restoration
Our technicians have dealt with many cases of water damage, from small leaks to indoor flooding. No matter how much water gets into your home or building, there is a chance that it can spread and penetrate deep enough to increase the risk of structural damage. Excess water and moisture also make mold growth more likely which will contribute to the structural damage and introduce the risk of mold related health effects.
We will immediately contain the spread of the excess water on arrival and do an inspection of your property to determine the depth of the damage. Our water extraction equipment can effectively remove standing water, and our advanced drying and dehumidification equipment will extract the moisture from furnishings, structural elements, and other objects that have been affected.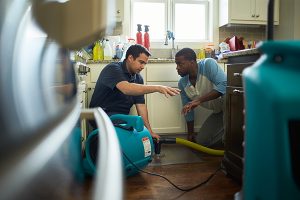 ServiceMaster Restoration Services provides free estimates after our assessment and we work with all major insurance companies in the Omaha, NE area to provide assistance with your claims.
Our water damage restoration services consist of these steps:
Emergency Response: We arrive quickly to contain the damage, inspect your property, and offer a free estimate.
Water Removal and Drying: We can remove standing water with our water extraction equipment and extract moisture from wet building materials, furnishings, and other objects with our dehumidification equipment.
Reinstallation and Cleaning: We will thoroughly clean and restore the affected areas and any large objects moved during the restoration will be put back in their original place.
Water Mitigation – What to Do:
Call ServiceMaster Restoration Services immediately for water damage restoration services so we can contain the damage and help prevent mold growth.
Remove as much water as possible by mopping and blot drying.
Move area rugs and other non-permanent flooring that have been affected. Do not try to remove permanent carpeting or flooring.
Put the bottoms of your drapes through a coat hanger and place the hanger on the rod to keep them off the wet floor.
Wipe excess water from your furniture and put aluminum foil under all furniture legs.
Put delicate objects like photos and paintings somewhere safe.
Pack water damaged books together tightly on the shelf to prevent page warping until we can dry them with a specialized process.
Open all doors and drawers in your home to help speed up the drying process.
Flood Cleanup – What NOT to Do:
Do not enter a room that is flooded with standing water unless the power is off.
Do not use a vacuum cleaner to try and remove water.
Do not remove permanent flooring or carpeting.
Do not use electrical appliances unless they have been inspected and are on dry ground.
Do not attempt to remove mold growth.
Regardless of how much water damage is in your home, you must react immediately before the water spreads deeper and causes extensive structural damage. ServiceMaster Restoration Services is available 24 hours a day to respond to homes and businesses in Omaha, NE that are affected by water damage. Our fast emergency response will help limit the damage as well as your risk of mold growth. We are available 24 hours a day at (402)513-8306 for emergency water damage restoration services.