Residential Carpet Cleaning in Farmington
Preserving Carpeted Floors in the Wake of Destruction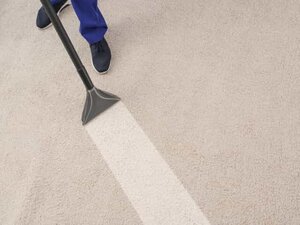 When carpet withstands fire, smoke, water, or mold, it can become severely damaged, even if you can't see the damage with the naked eye alone. That's because invisible health hazards lurk behind these types of destruction – even many you wouldn't realize apart from the nuisances of having standing water, smelling unbearable odors, or the possibility of breathing in mold spores.
As experts in residential carpet cleaning and restoration, ServiceMaster Restore by Restoration Specialists is here to help quickly assess and repair the damage with fast on-site carpet cleaning, disinfecting, and drying.
Carpets are cleaned with eco-friendly techniques that are sure to:
Revive the former look of your flooring
Protect your carpets from further damage
Remove foul odors and unsightly stains
To improve your air quality and safeguard your health, it's important to find a professional residential carpet cleaning company in Farmington. Our expert staff works hard to remove health threats as well as removing visible dirt, dust, and grime fused into the carpet fibers. Our restoration specialists use industry leading techniques to remove allergens and improve the look and feel of your carpet with results that last.
Are you looking for residential carpet cleaning in Farmington? Our experts are ready to help! Call us at(505) 209-8565 orcontact us online for more info.
How We Clean and Restore Carpeted Floors & Area Rugs
Our nationwide brand leads the home restoration industry and has done so for the past 65+ years. We are a locally owned and operated business and work to improve the health and safety of our community members, not to mention making their lives easier by rolling up our sleeves and fixing the damage in a thorough, methodical way.
We clean carpets with the following proven strategy:
Remove any standing water and dry the carpet
Vacuum the surface dirt and other particles
Provide mold remediation to eliminate spores from reproducing
Use eco-friendly solutions that don't rely on harsh chemical
Condition and loosen deeply imbedded stains
Regardless of the type of damage your carpet or area rugs have sustained, you can trust in our detailed process to meet your expectations in the wake of a flood, fire, or other disaster. We know no homeowner is prepared for such an unexpected, disastrous, or even traumatizing event. That's why ServiceMaster Restore by Restoration Specialists answers the phone 24/7 and arrives on the scene quickly to get to work on your carpets.
Call(505) 209-8565 orreach out online to learn more about our specialty carpet cleaning services in Farmington.