Water Damage Restoration In Farmington
Reliable Water Restoration Company Near You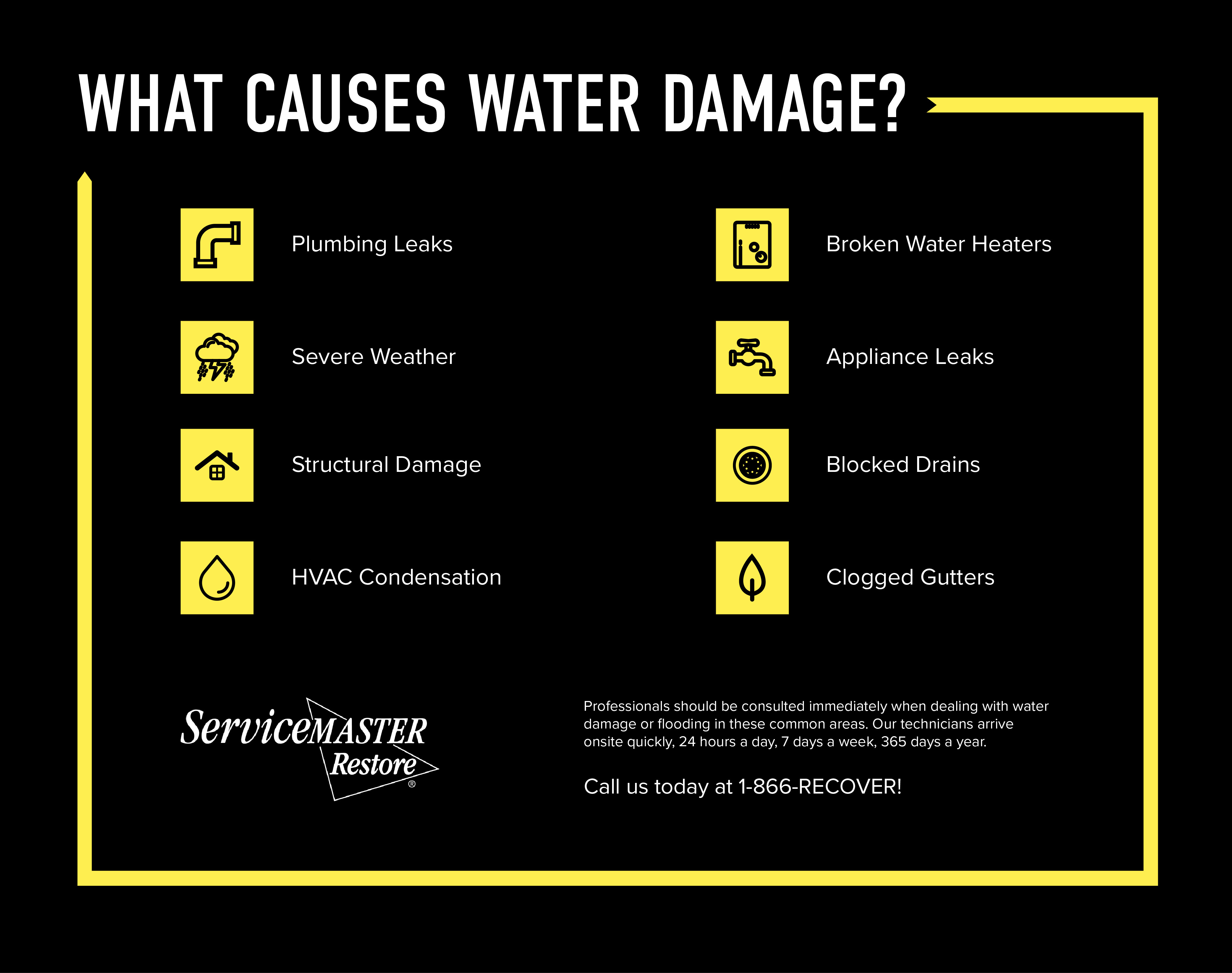 One of the pipes burst in your home, and now a room is flooded. The carpet is soaked and smells musty, and you're worried about mold growth.
Don't panic. You can turn to ServiceMaster Restore by Restoration Specialists in Durango or Cortez, CO for water damage restoration services.
We're available 24/7 for emergencies. We'll take care of your issue efficiently.
Call(505) 209-8565 today orcontact us online to get started with water damage restoration services in Farmington. We're available 24/7!
Common Signs Of Water Damage
Water intrusion can cause serious damage to your home and lead to costly water damage restoration if it is left unchecked. Fortunately, there are a number of warning signs that you can look out for in order to protect your home from water damage.
These include water stains on the walls or ceiling, musty odors or smells of mold or mildew in certain rooms, bubbling paint or wallpaper, damp patches on the floor, water spots near windows and framing, and even an unusual increase in your water bill.
If you notice any of these signs then it is important that you contact a professional water damage restoration team immediately; quick action to identify and eliminate water intrusion will help reduce subsequent damages to your home.
Our Water Damage Restoration Process
ServiceMaster Restore by Restoration Specialists handles water damage repair work in the Farmington, New Mexico area. When you hire us, we will:
Remove as much as water as possible
Tear out damaged floorboards, carpeting and drywall
Remove any wet furniture from the area
Dry everything as thoroughly as possible
We provide damaged contents restoration as well
We can also fix everything from foundation cracks to moisture behind the walls. Get in touch with us today to learn more about our water restoration services.
Contact our restoration experts online or call(505) 209-8565 if you need water damage restoration services for your home.
Frequently Asked Questions
How can I prevent water damage?
Here are some tips to help you prevent water damage:
Regularly inspect and maintain your plumbing, such as faucets, pipes, and water heaters.
Install water detection alarms to alert you of leaks or standing water in your home.
Seal any gaps around your windows and doors to prevent rainwater from seeping inside.
Maintain your landscaping to ensure water drains away from your property.
Keep gutters and downspouts free of debris to prevent water from accumulating on your roof or near your foundation.
Replace old or damaged hoses, connectors, or other parts of appliances or machines that rely on water.
Place water-absorbent mats under sinks, next to water heaters, and in other areas prone to leaks.
Ensure that adequate insulation is present in colder areas of your home, like the attic or crawl space, to prevent frozen pipes from bursting in the winter.
Inspect your roof regularly for leaks or damage, especially after storms or heavy rain.
Install backflow preventers to prevent contaminated water from entering your home's drinking water supply.
These preventative measures can save you time and money by helping you avoid costly water damage. Contact ServiceMaster Restore by Restoration Specialists today for more water damage mitigation tips.