BEND FIRE DAMAGE RESTORATION
Reliable Fire & Smoke Restoration Services Near You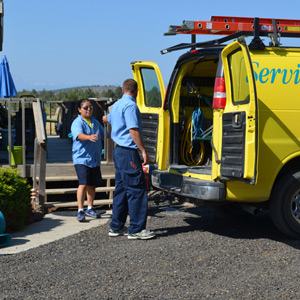 Seeing your business facility or home burn up in flames is always a devastating sight. Fire damage affects the structure of your property as well as the valuable items within your property.
If you do not take immediate action, your property may continue to sustain damages even after a fire is extinguished.
Many post-fire damages are the result of the complex reactions of burned materials and soot coming into contact and becoming absorbed into unaffected and partially damaged items. This ultimately turns them into unsalvageable items if enough time passes before action is taken. There is also the danger of water damage and mold growth from firefighting efforts.
For expert fire and smoke restoration services near you, turn to our team today! You cancontact us online or call(541) 240-8317.
We can take care of your worries
ServiceMaster Recovery Specialists know how victims of fire disasters can be left feeling overwhelmed and lost. Unlike many other disaster restoration companies, we don't simply work to restore a home or office, collect the bill and leave.
At ServiceMaster Recovery Specialists, we make it a priority to restore our clients' happiness and leave them with a peace of mind. We take our job very seriously because we're proud to serve our neighbors.
Why Choose ServiceMaster Recovery Specialists
Throughout the entire damage restoration and clean up process, ServiceMaster Recovery Specialists will help lessen the stress and hassle by dealing with insurance providers and claim adjusters for you. We are trusted and approved by most insurance carriers for restoration services.
The technicians we send onsite have been with us for many years, serving our communities and acquiring a wide array of knowledge and experience in the process. With every service we provide, we handle your property with the utmost respect, carefully restoring every piece of your property. Please feel free to contact our office.
Allow the disaster restoration experts who truly care about you and your situation to assist in bringing your life back to normal. Let us restore your peace of mind.
Call(541) 240-8317 orcontact us online to schedule a fire restoration service in Bend. We are available 24/7 every day of the year!