Assessment

We start with an inspection and damage estimate to determine the scope of work.

Mitigation

We focus on preventing further damage from affecting your property and belongings.

Restoration

We help you recover from the damage, returning your property to pre-loss conditions.
Restoration Services
Our Emergency Restoration Services Will Help You Get Back to Normal
If your home or business has experienced damages of any kind, whether it be from a fire, flood, or smoke, it's crucial that you get the quality, timely restoration services you need so that you can quickly get back to normal. With 24/7 emergency services available any time of day or night, ServiceMaster Restore® offers commercial and residential restoration services that will make your home or business whole again.
Our locally owned restoration company is backed by a national franchise network with over 65 years of experience and we are committed to delivering total customer satisfaction. We offer everything from weather damage restoration to fire and smoke damage repairs to mold remediation. No matter when disaster strikes, ServiceMaster Restore will be there, day or night, available 24/7 for emergency restoration services near you.
Commercial Decontamination
ServiceMaster Restore also offers decontamination services, which include our new disinfection and anti-microbial products that protect surfaces for 90 days. We are prepared to help you clean up after any disaster and will protect your facility from the spread of harmful germs, bacteria, and microbes.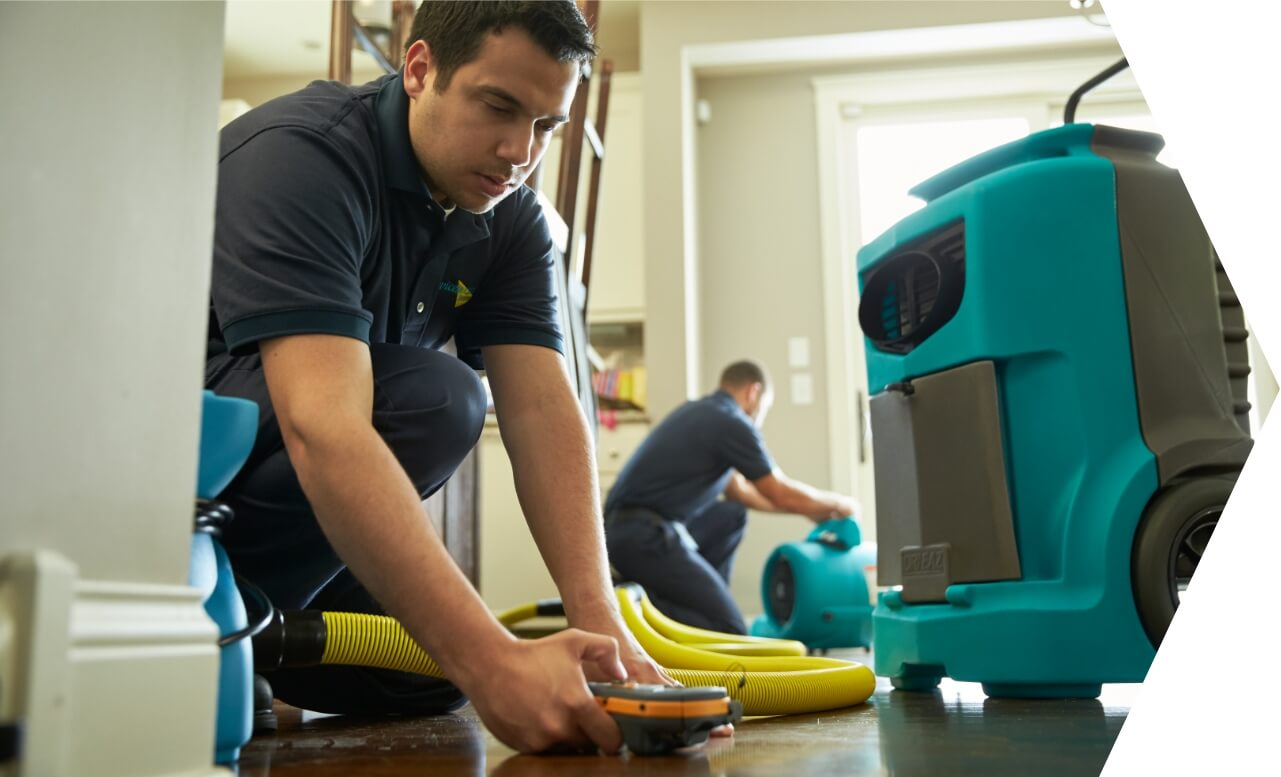 We Provide
Strength In
Numbers
0

+

Locations

0

Countries

0

Year Experience

0

/7

Availability
Comprehensive Training and Certification

Navigate Insurance Process With Ease

Available 24/7 Every Day of the Year

The Industry's Go-To Advisor
Providing the Peace of Mind You Deserve
Experiencing damage of any kind to your home or business can be quite stressful and traumatic. Disasters don't happen on a set timeline and that's why we are ready to help you with emergency commercial and residential restoration services when a crisis hits. Our restoration team is available 24/7, day or night, to assist you through this difficult time. We are experts in our field and understand that you require more than just a restoration company – you need a genuine team of experts who care about your safety, happiness, and well-being.
ServiceMaster Restore sets the industry standard in disaster restoration services. Our team is extensively trained and certified in all applicable areas and we are dedicated to working closely with our customers throughout the entire restoration process. After we are finished, we always follow up with you to ensure you're happy with our services. In this time of uncertainty, you can be confident that your home or business is in the most capable hands.
We're ready to restore your home or place of business after any disaster.
Don't Just Take Our Word For It
"My husband and I recently had a water leak in our home. Our insurance company recommended ServiceMaster, and we are so glad they did." - Rick

"ServiceMaster Restore came out to do a scheduled cleaning of my carpet. The technician did a good job and was friendly. Scheduling service with this company has been great and I've had good interactions with both their customer service and technicians." - Dennis

"I called ServiceMaster Restore and they expedited my request. They came out right away to examine the water damage. The tech came in, did what he was supposed to do, and gave me an analysis. He was very nice, helpful and professional. I would recommend ServiceMaster." - Angela

"ServiceMaster Restore was awesome. I had to get the house tarped because I lost a lot of the roof. So, I contacted ServiceMaster on a Monday night. A gentleman called me on Tuesday afternoon and said I needed some paperwork signed. So, I met him on Wednesday, and on Thursday, my roof was tarped. That was quick." - Alan

"The company was consistent with checking the equipment that was left to dry the water damage daily. They sent a request daily to check my availability. The technicians were on time, friendly and respectful of my property." - Cathy S.

"I wanted to take the time to thank you for the exceptional level of customer service you extended to us during our recent project. It was a pleasant surprise not only be kept apprised of each step of the renovation but an update to let me know the stage of the project and the next step. The professionalism of each of your team members was top notch. I'm happy to recommend your services to anyone ..." - Nancy and Rick L.
Tropical Depression Nicholas

Movement : Nicholas slowly crawled out of southeastern Texas overnight Tuesday into southwestern Louisiana, where the center of circulation currently sits Wednesday morning. ...

Learn More

Costliest Hurricane Seasons in U.S. History

The United States is no stranger to severe weather—if you live in the U.S. long enough, you can experience everything ranging from wildfires and fire tornadoes, to flash flooding . ...

Learn More

How Do Wildfires Start?

The past several years wildfires have been rampant, ravaging parts of California, Colorado, Oregon, and Washington. In 2018 alone, 8.7 million acres of land were burned in ...

Learn More
View All Articles