SMOKE DAMAGE RESTORATION in COlumbus
Smoke damage to a home can be terrible to have to live with, but smoke damage to your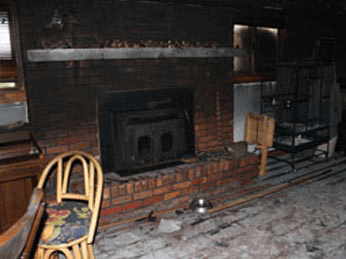 Columbus business can have devastating effects on your business's ability to serve its clients. Smoke damage can also affect the ability of your employees to perform their duties, or even worse, not being able to come to work.
Coordination is the key for a successful fire damage remediation. Smoke removal must be done quickly, but with the least amount of disruption to your daily home life. Any interruption could cause potential loss of future revenue, and our Service Master by Angler team understands this. Whether the damage was caused by a piece of machinery, mechanical system failure, faulty electronic component, or an actual fire to the building, you will need a trained fire damage remediation expert to properly perform the restoration. Simply opening the windows and painting the walls is not enough. Smoke odor left behind will cause additional damage to the structure of the building, and damage to the valuable equipment that helps make your residential property livable.
SMOKE ODOR REMOVAL
Smoke that is left behind will cause permanent staining, corrosive damage to electronics, unpleasant odors, and will cause you to live with the constant reminder of the damage entirely. Proper smoke removal can allow you to return to business as soon as possible. Smoke residue is acidic in nature and creates corrosion to metal, glass, plastics and of all types of substrates. The heat of a fire opens the pores of substrates and drives the soot particle deeply into the outer layers of the substrates affected. Soot when combined with water or high humidity conditions exponentially increases the acidic strength and thus the damage is very aggressive. Controlling humidity and climate reduces acidic corrosion that smoke damage can cause. At ServiceMaster by Angler, our team of trained fire damage remediation technicians in Columbus is trained in the latest methods and with the most current technology to properly evaluate the effects of smoke damage to your business and to your contents.
SMOKE DAMAGE CLEANUP in Columbus & THROUGHOUT SOUTHWEST OHIO
Trust our team to get started today on smoke damage restoration for your Columbus business or commercial property.
Our ServiceMaster by Angler technicians has spent countless hours training and perfecting the proper techniques to ensure that your business will be completely restored to the condition it was before the damage occurred. We understand how important it is us to minimize the damage and the disruption to your life. Addressing the damage caused to your building is best left to the professionals.
We are so confident in our abilities to perform the proper smoke removal at your business, we guarantee that upon completion of all areas treated by ServiceMaster by Angler no smoke odor will exist. We stand behind this guarantee for as long as you own the property. We perform smoke removal and commercial smoke damage restoration services in Columbus and all throughout Southwest Ohio.
What's your plan when disaster strikes? Contact ServiceMaster by Angler at (614) 454-3850 for commercial smoke damage restoration services in Columbus.