Residential Fire & Smoke Damage Restoration in Austin
Property Damage Restoration Company for 24/7 Clean-Up & Repairs
Experiencing residential fire damage can be stressful, and it can often be very traumatic. Not only are you expected to pick up the pieces in the aftermath of the disaster with little to no time, but there's also no one right way to approach fire damage clean-up and repair since no two house fires are the same.
If your home has taken damage from fire, smoke, or even water, turn to ServiceMaster by Rice - Austin for help! We're a locally owned and operated fire damage restoration company in Austin that's ready to get your home back to normal while keeping you informed every step of the way. We have a trusted process, a team of experts, and a proprietary system that ServiceMaster has used for over 65 years nationally!
Are you looking for help with fire and smoke damage in Austin? Reach out to our expertsonline, or call us at(507) 204-3870.
What Kind of Damage Needs to Be Repaired After a House Fire?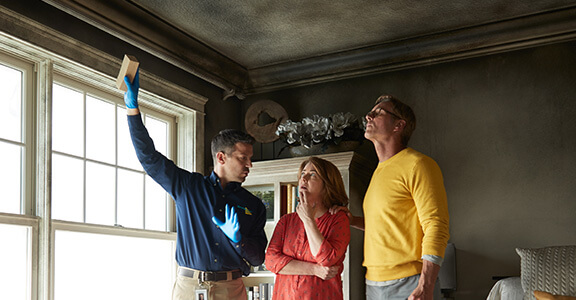 Whether a house fire or nearby wildfire was recently extinguished, you'll likely discover that the damage fire and smoke left behind is unique and severe.
Not only does direct contact with the flames and radiant heat shatter windows, melt appliances, and destroy interiors, but the smoke, soot, and ash produced will damage your home even more beyond the initially affected areas, leading to discolored walls, trapped smoke odors, and nasty residues.
Some other examples of fire and smoke damage that'll need to be removed from the home include:
HVAC System Damage – Smoke can become trapped in your HVAC system, creating an unhealthy cycle. Flames can also cause bad damage to your ductwork. A comprehensive clean-up and repair plan is needed to restore indoor air quality.
Water Damage – Your flooring, walls, ceilings, and more will become saturated with dirty water once firefighting efforts are used. Proper water mitigation and damage restoration will need to be done to prevent complications involving mold growth and wood rot, to name a few.
Foundation Damage – The foundation may be damaged when a home catches fire. If this happens, professional damage restoration and reconstruction will need to take place before you live there safely again.
Due to the specific and unique type of damage left behind by house fires, it's important to skip any DIY fire damage repairs or clean-up and trust the professionals instead. Our team will identify all the areas affected by fire, smoke, and water and create a detailed action plan to get your home's restoration started!
Our restoration process is thorough, and the steps we take include:
Identifying the source to determine what type of fire occurred
Remediating water damage (if necessary)
Evaluating sensitive materials that may be damaged from smoke and soot particles
Removing contents—including the collection of immediate items you may need for the next seven days.
Packing out remaining contents for cleaning and storage
Performing structural restoration, including removal of charred contents that may seal in smoke, such as insulation and burned wood
Evaluating carpets and floor coverings that may need to be removed
Inspecting the framing of the house and subfloors for safety
Cleaning, eliminating odors, and deodorizing surfaces to pre-loss condition
Request Your Austin Fire Damage Restoration Services Today!
Getting started with ServiceMaster by Rice - Austin is easy – all you have to do is reach out online or over the phone, and we'll either schedule a time when it's convenient for our team to drop by for an inspection or dispatch a team for emergency restoration. Either way, you can expect us when we say we'll be there.
Give us a call at(507) 204-3870 orcontact us online to request your fire damage RESTORATION services.