Water Damage Restoration in Rice - Marshalltown
Dependable Water Damage Professionals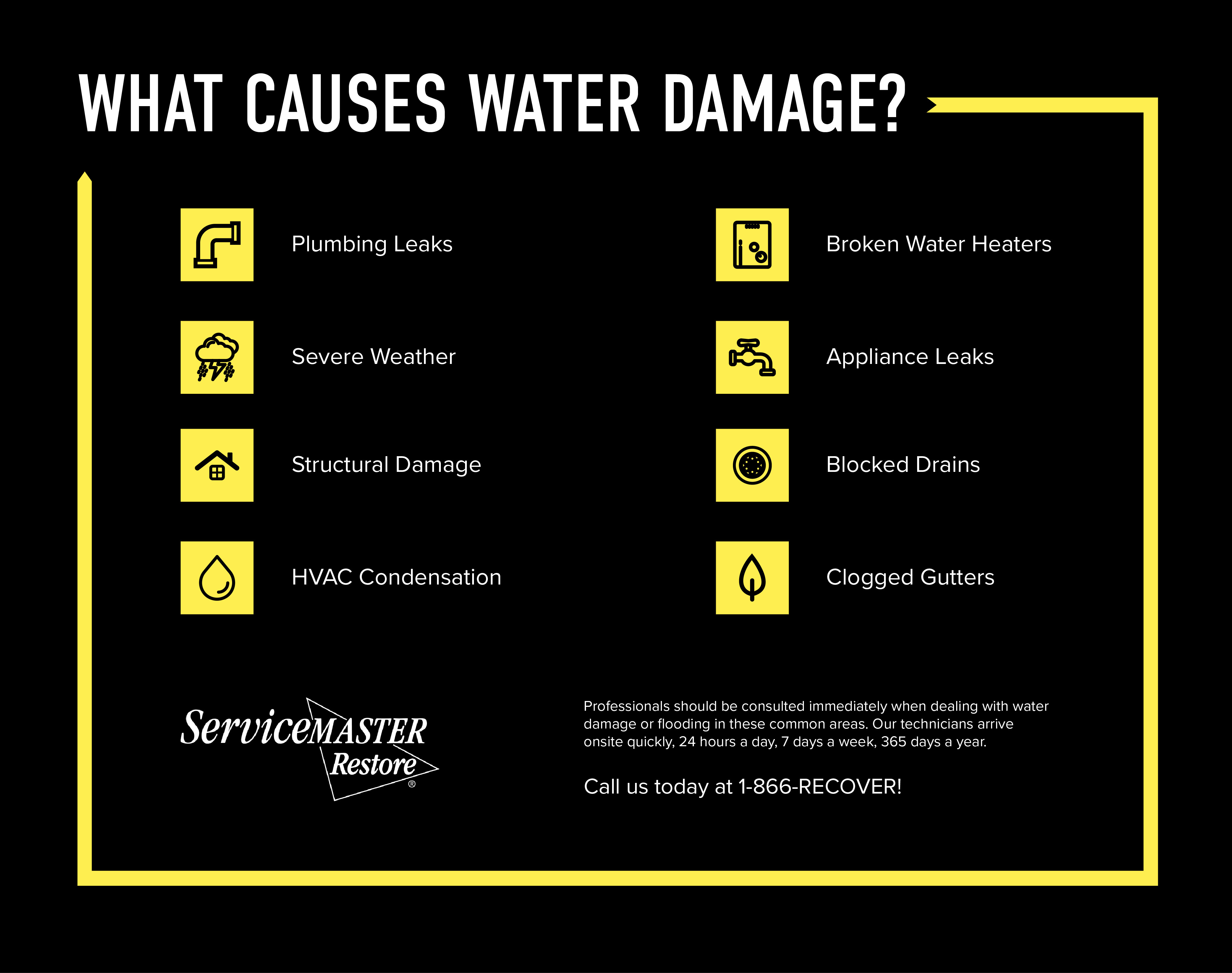 ServiceMaster by Rice - Marshalltown realizes how fast water damage can wreak havoc. We work urgently to salvage all that is recoverable as promptly as possible. Our elite restoration team is available at all hours of the day – 7 days a week, 365 days a year! We are on standby to assist when unexpected emergencies arise – no matter how inconvenient the timing may be.
We arrive at every water damage site fully equipped and prepared to get to work without delay. Utilizing state-of-the-art tools and technologies, our restoration expertscan help with countless water-related scenarios, such as:
Burst frozen pipes
Sewer line ruptures
Pooling washing machines or dishwashers
Plumbing backups
Flooded buildings
And much more!
You can trust our specialists to follow proven safety protocols and recovery techniques to return your possessions to their pre-loss condition.
Hi-Tech Water Damage Restoration Equipment
We rely on much more than sump pumps, mops, and dehumidifiers to tackle extensive water damage situations. Water can seep into wood, stain furniture, and cultivate mold spores quickly. Our task is to remove moisture from every square inch of your property – including the subflooring, walls, and attic.
To eliminate water from difficult-to-reach nooks and crannies, we rely on:
High-powered blowers
Cutting-edge axial fans
Heavy-duty vacuum equipment
Hi-tech dehumidifying technologies and tools
Truck-mounted moisture extraction equipment
And much more!
Recover, Repair, Rebuild, & Restore
Weather damage can be emotionally taxing, physically frustrating, and financially overwhelming. At ServiceMaster by Rice - Marshalltown, we know how vulnerable dealing with weather catastrophes can be. Our team treats each client with compassion, attentiveness, and empathy. We promise to deliver quick and durable results – removing moisture quickly to maintain the structural integrity of your residence by preventing mold, decay, and degradation. Our team will do everything within our means to restore warped, soggy, and water-stained furniture/belongings.
We provide flood, fire, hurricane, and other weather damage restoration services to help households regain footing. Our top priority is to minimize the costs and setbacks incurred from weather disasters. We're proud to be backed by a reputed franchise network with more than 850 locations across North America and 65 years of effective restoration services to its name. This support system provides access to industry-best resources, products, and technologies.
Call (641) 450-1973 or contact us online for more information about our water damage restoration services in Rice - Marshalltown!