Mold Testing
Mold Damage: Commercial Mold Testing
Mold in your commercial property or business is a troublesome issue that causes extensive damage if not taken care of efficiently and effectively. Water damage, roof leaks, and other structural components can encourage mold growth. However, mold can be an invisible enemy. Therefore, it is important to complete a mold test to address any potential mold problems as fast as possible.
If you notice signs of mold in your commercial property or business or worry that you may have mold, contact our mold remediation experts or call us at (410) 346-9336. Our Mold Testing and Removal Specialists are professional and work quickly to prevent mold damage to your property. Mold removal jobs can be costly, but professional inspections can help avoid these expenses. As a full-service restoration company, we will do whatever is necessary to get your potentially mold-damaged commercial property back to its pre-loss condition if there is mold present, and to get your company back to an operational level. Because of our decades of experience in this industry, we know what to look out for to save you time and money in the long run.
Our Commercial Mold Testing Process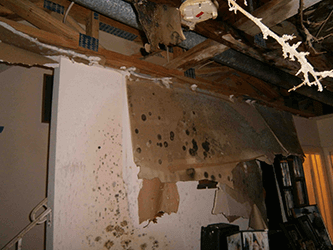 Our Mold Testing Specialists will complete a thorough, high-quality inspection of your commercial property to reveal mold and determining indoor air quality. The minute you call ServiceMaster by Singer, our team will begin our commercial mold testing process.
Step 1: Mold Inspection
Our team will perform a mold inspection and an air quality test throughout your entire commercial property. The test will help identify the scale of the problem. Mold inspections do not take long to complete.

Mold Inspection: Environmental Assessment and visual inspection for signs of mold.
Testing for Mold: Bulk sampling and surface sampling, as well as indoor air quality analysis.
Step 2: Send Mold Samples and Analysis for Evaluation
ServiceMaster by Singer sends the mold inspection test to an accredited 3rd party lab for analysis. We will contact you back within a couple of days and provide a copy of the 3rd party results and a full report from our experts.
Step 3: Receive Results and A Quote
We send you the lab results and attach an easy-to-read report that explains the lab findings and our analysis. Additionally, if the mold inspection found mold growth, it will include a plan of action for mold remediation and removal. Understanding the lab results and why we have to perform work or why we do not have to perform work is important to both you and us. It will give you piece of mind for the health and care of your staff and clients.
Being discreet throughout this process is important for the welfare of your business, and we are happy to follow additional protocols you might have to prevent the spread of misinformation.
Contact Our Experts For Commercial Mold Testing
ServiceMaster by Singer experts are ready to help you with your commercial mold testing needs. We understand the importance of making sure your commercial property or business is mold-free and safe. If you are in the Baltimore, Washington, D.C., and Wilmington communities, contact us today to set-up a mold inspection. Beyond any physical work that is necessary, we can also help with insurance carriers, insurance policies (including the building owner's master policy and tenant policies like Betterments and Improvements Insurance, Contents Liability Insurance, etc.), or any other complications resulting from your potential loss.
Find Out More About Our Proprietary Disaster Preparation Program
To be able to effectively implement a customizable comprehensive disaster solution for you and your organization, we need to work together to plan for the possibility of future mold damage.
This would include onboarding your company's unique needs and property specifications.
There are many important questions to consider prior to the event of mold damage:
What do your insurance policies (there may be multiple relevant policies) cover?
What is your deductible on each policy? Will you be paying out pocket?
Where can our team park to minimize business operations?
Do you want trucks with our company name and logo showing up at your property?
What structures, systems, and materials are we allowed (and not allowed) to work on?
Who should we first talk to upon arrival at your facilities or building (this may vary depending on the time)?
What authority does this person have to make financial decisions for the company?
and many more…
Please reach out to us prior to a loss, or needing our restoration services, so that we can help prepare you for a catastrophic event and save you money when it does happen. Find out more about our proprietary Disaster Preparation Program to see how you and your organization can minimize a future loss's impact on your operation.