Commercial Large Loss Cleaning
Disasters like floods, fires, and storms have the potential to cause extensive damage to commercial buildings like retail stores, office buildings, and warehouses. Significant property damage can cost companies a lot of money due to the cost of the restoration, loss of product, and the time spent out of business while the building is restored. If you experience extensive damage that has affected your business, it helps to know that our restoration professionals are dedicated to helping local businesses get back on track quickly following a large loss.
ServiceMaster Kwik Restore provides commercial large loss restoration services to help restore offices and commercial buildings in Northern IL and Southern WI, including Lake, McHenry and Kane County in IL and Racine, Kenosha and Milwaukee County in WI. Our technicians use state-of-the-art equipment and methods to handle large scale damage in any commercial setting.
Commercial Flood Damage Restoration
Indoor flooding can be very destructive, especially if it happens in an office or warehouse near products or expensive equipment. Excess water can do serious damage to electronics and machinery and it can also get absorbed into flooring, wood, and drywall to cause structural damage to the building. If the flood water is not removed right away, it can spread to affect a larger area which will lead to more damaged products and equipment.
The technicians of ServiceMaster Kwik Restore are trained and equipped to remove standing water from any commercial setting using advanced water extraction equipment. We can thoroughly dry affected building materials to reduce the risk of structural damage and restore damaged electronics as well.
Our commercial flood damage restoration services include:
Emergency Response and Inspection: Our technicians respond immediately to limit your losses by containing the damage. We will do a complete inspection of the damaged area and form a restoration plan.
Water Extraction and Drying: We have the right equipment to remove flood water and our advanced drying equipment can extract moisture from wet building materials.
Electronics Restoration: We can restore water damaged electronic equipment including computers and TVs and even help recover important files.
Structural Repairs: We can repair structural damage to the walls or flooring in your building.
Commercial Fire Damage Restoration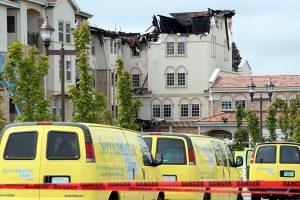 When a fire occurs in a commercial building, it can spread very quickly and cause serious damage to the building and its contents.
It is very important for everyone in the building to evacuate safely in the event of a fire before worrying about the damage. Once the fire is out, you must focus on having the building restored to prevent further structural damage or permanent damage from soot and corrosive byproducts. Our technicians provide effective fire damage restoration services to handle large scale damage in commercial settings. We can rebuild structural damage caused by the fire and treat surfaces and objects affected by soot and corrosive byproducts.
You can expect the following from our commercial fire damage restoration services:
Emergency Response and Inspection: We will arrive as soon as the fire department clears the building to limit the damage and begin the restoration.
Pre-Treatment of Soot and Corrosive Byproducts: Soot from the smoke and other corrosive byproducts can cause permanent etching and discoloration to various surfaces and objects. We use the right chemical cleaners to remove this damage.
Electronics Restoration: We can restore electronics affected by soot and smoke damage.
Structural Repairs: We can repair structural damage caused by the fire to get your building back to its previous condition.
The damage from a natural disaster can really hold a business back and the longer you hold off the restoration, the more time and money your business will lose. If your business is affected by a major disaster such as a fire or flood, contact ServiceMaster Kwik Restore immediately for commercial disaster restoration. Our technicians are dedicated to helping local businesses recover after experiencing large loss from a disaster.
You Can Call Us 24 Hours a Day at 847-908-5914 for Emergency Services