Cary Crime Scene Cleaning
Experienced Biohazard, Trauma & Crime Scene Cleanup Near You
Where do you turn if you need crime scene cleaning services in Cary, IL or the nearby areas? The trained professionals at ServiceMaster Kwik Restore can help. There is no telling when a serious accident or violent crime might occur and, while it may be a rare occurrence in your life, it is important to know what to do in these situations. The scene of a crime or serious accident can be shocking and dangerous to encounter. There are typically biohazard materials like blood and bodily fluids found at the scene that can spread serious disease or infection. You must stay composed in these scenarios and call 911, along with a licensed restoration professional. Our technicians use the most advanced cleaning products and protective equipment in the industry, and we are trained to work with law enforcement during crime scene investigations.
We offer crime scene cleanup in cary that will have your property looking good as new. Call(847) 908-5914 orcontact us now!
ServiceMaster Kwik Restore provides trauma and crime scene cleaning services to safely remove biohazard materials and restore the scene of a violent crime or accident. We serve Northern Illinois and Southern Wisconsin, including Lake, McHenry and Kane County in IL and Racine, Kenosha, Milwaukee County in WI.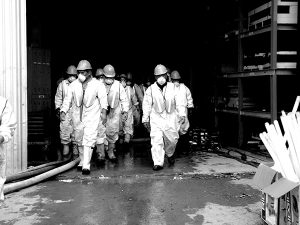 Any biohazard materials such as blood and tissues found at the scene of a violent crime or accident must be treated as infectious materials.
It is possible for these materials to contain dangerous viruses or bacteria and any contact with them can spread disease or infection.
You must always call law enforcement and EMTs first to respond to the scene, but these professionals will not clean up the biohazard materials from your property. That is why you must also call a licensed professional like ServiceMaster Kwik Restore.
Our technicians are trained and licensed to safely clean and restore trauma and crime scenes that contain biohazard materials. We can remove any biohazard materials from the scene using proper protocols and we will provide thorough cleaning and disinfection to eliminate the risk of negative health effects. We are committed to returning the scene to its natural state and removing all physical evidence of the tragedy.
The trauma and crime scene cleaning services we provide include:
Complete removal of all biohazard materials
Thorough cleaning and disinfection of the scene to reduce the risk of disease or infection
Safe disposal of biohazard materials at a licensed medical waste facility
Compliance with local, state, and federal government health regulations
The toughest part about dealing with situations involving an accident or violent crime is losing a loved one to the tragedy.
These situations are especially difficult for those who lost a friend or family member and we make sure to respect these emotions as we work.
We treat those who are grieving with a sense of compassion and we get the job done quickly to return some sense of normalcy.
Our technicians will also arrive in unmarked vehicles to protect the privacy of you and your family.
If a violent crime or accident takes place on your property, try to stay composed, avoid contact with biohazard materials, and call for help immediately.
Once law enforcement and EMTs have arrived, contact ServiceMaster Kwik Restore for trauma and crime scene cleaning services.
We are Available 24 Hours a Day at 847-908-5914 to Respond to Emergency Situations in Northern IL and Southern WI