fire Damage Restoration in Albuquerque
Professional Fire restoration services near you
The thought of a fire occurring within your home or business is terrifying! Fires cause widespread, often devastating damage, and they immediately put everyone inside in serious danger. But putting out the fire is only half the battle.
The damage will continue to spread and worsen until the property can be restored. Fires create smoke, soot, and other corrosive byproducts that can cause widespread damage after the fire is out, and this damage can quickly become permanent.
At ServiceMaster of Albuquerque & West Mesa, we provide fire and smoke damage restoration services to clean up and repair affected homes and businesses in New Mexico. Our professionals are equipped to stabilize and repair structural damage caused by the fire. We use advanced cleaning products and techniques to restore materials affected by soot and smoke residue.
Do you need smoke and fire damage restoration for your home? Call our experts at(505) 257-6922 or contact us online for professional restoration services.
Problems Caused by Smoke and Fire Damage

It is no secret that fires cause extensive damage, and the damage happens in waves. The flames of the fire burn structural materials, furnishings, and everything else it encounters, and it can easily leave a building structurally unstable.
When this happens, the building needs to be stabilized right away. Otherwise, it could be at risk of collapse.
The fire itself is not the only source of damage. The heat from the fire and the burning of synthetic materials create soot, residue, and other corrosive byproducts. These will persist after the fire and continue spreading, settling on various objects and surfaces. The corrosive byproducts cause tarnishing and etching to the affected materials. This damage will become permanent if does not reach treatment quickly enough.
Why Choose Us
Our professionals at ServiceMaster of Albuquerque & West Mesa are trained and equipped to provide complete fire damage restoration. We can handle everything from structural stabilization and repairs to the cleaning and restoration of materials damaged by soot and corrosive byproducts.
We will start by stabilizing your home or building to prevent further structural damage. Then, we will begin pre-cleaning to treat surfaces and objects damaged by smoke and soot. Our advanced cleaning products are effective for removing soot and residue from at-risk surfaces like porcelain, tile, marble, chrome, aluminum, brass, carpeting, and upholstery.
Our Process for Fire and Smoke Damage Restoration
ServiceMaster Smoke and Fire Damage Cleanup and Restoration Services Consist of:
Emergency pre-cleaning: We will immediately start cleaning objects and surfaces affected by smoke and soot to prevent permanent damage.
Content cleaning and pack-out: Our technicians can take your damaged personal belongings to our facility for thorough cleaning and restoration. We can also restore soft content like clothing, linens, and more using the Esporta® Wash System.
Wall and ceiling cleaning: Our cleaning methods can effectively remove soot and residue from wood and drywall surfaces.
Odor removal: We use advanced equipment to extract smoke odors from the affected materials and air spaces.
Contact Our Professionals for Fire Damage Restoration All Throughout New Mexico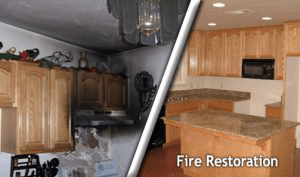 After a fire is out on your property, you cannot hesitate to call our professionals for fire damage restoration. Our technicians will arrive quickly after your call and begin the restoration process to help prevent widespread, permanent damage.
We are available 24 hours a day to respond to fire damage emergencies in Albuquerque, NM and throughout all of New Mexico. We'll take care of everything from smoke cleaning services to fire damage clean up near you.
Call us anytime at (505) 257-6922 or contact us online for expert fire restoration services in Albuquerque. We are available 24/7!