About Us
Who is ServiceMaster and what exactly do you do? This question is often asked of me in social settings after the question, "So, where do you work?" Usually I say, "It's a restoration company" but it is so much more than that and even sometimes our regular customers are not aware of who we really are. So just for fun today, I am going to introduce ServiceMaster of Albuquerque & West Mesal.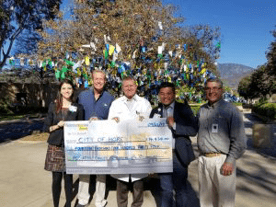 ServiceMaster as a worldwide company is over 50 years old. It has grown from one man's vision with a moth proofing business to being an umbrella for several International franchises such as ServiceMaster Restore, Amerispec, Furniture Medic, Terminex, and Merry Maids. Mr. Marion Wade had a strong personal faith and a desire to honor God in all he did, which is where the name came from – 'In Service of the Master". The underlying mission statement beneath the core values of the company is to Honor God in all that we do.
ServiceMaster of Albuquerque & West Mesa is owned and operated by Todd Russell and Bruce Mason. They started out with just a handful of employees in 1978 as T.A Russell Construction, growing now to over 75 technicians and administration staff. With offices based out of Azusa in California, as well as Albuquerque, New Mexico. We are a fully licensed general contractor in the states of California and New Mexico. We provide carpet cleaning, floor finishing, dryer vent and furnace cleaning among our main services such as water damage mitigation, mold remediation, and smoke/odor mitigation.
One of the tools that we use for measuring a great job is doing regular supervisory inspections. This allows us to catch any misses before it becomes a grievance for the client, but it is also a tool for our technicians to know the areas that they are succeeding and what needs to improve. Inspections are done on a monthly, and in some cases weekly, basis with a target of maintaining a 90% overall quality rating. This tool helps the employee to develop in skill level, as well as delighting our customer. The inspections are based on our task schedules so that we are ensuring that we keep a standard of excellence with our customers.
Communication is one of our favorite words. Communication helps to avoid error, and resolve problems. One of our goals is to simplify and improve the quality of our customers' lives. By keeping open lines of communication, we are able to promote teamwork and provide a positive workplace. Our staff use a messaging program available on the computers as well as any smartphone, so that even though they are sometimes working alone, information can be relayed and given. We also have an emergency on-call number so that the technicians can reach a supervisor immediately if necessary. For customers, each technician will leave their name and cell phone number for any questions or concerns that are handled with a sense of urgency.
Professionalism is of utmost importance. You will find our technicians in a uniform of bright blue and proudly wearing a security badge. They work with a smile and love to find ways to provide quality to the customer. Consistent feedback, both constructive and positive, along with regular staff reviews promotes a healthy work environment and growth within the company. We pride ourselves for being a company with integrity and honesty. The cleaning system and call-back program for tech work ensures that we don't cut corners and we guarantee that we will do our best.