Mold Damage Restoration in Berrien County
Remediate Your Mold Problem Fast with Our Mold Removal & Repair Experts
Mold damage is never a good thing. Whether you've spotted mold growing in your bathroom, kitchen, or attic, or you have a growing suspicion that mold growth may be hidden somewhere in your home, it's important to seek out the proper mold removal and damage restoration services to get things restored to normal.
That's why ServiceMaster of Berrien County is here! Regardless of the extent of your mold damage, or the water damage that contributed to your home's mold growth, our professional team can locate all areas of damage and restore your home to normal with a wide range of mold remediation services.
Common Causes of Mold Damage
Mold is one of the worst contaminants you can find in your home and can grow quickly on damp surfaces within 48 hours after water damage. It's important to understand the most common causes of mold to stop growth early on.
Common causes of residential mold growth include:
Dishwasher leak
Washing machine leak
Water heater leak
HVAC system condensation/leak
Cracks in foundation
High humidity
Plumbing leaks
Flooding
Damp basement
Cracks in walls
Poor ventilation
Leaky roof
Regardless of the cause, this must be stopped and cleaned up before mold damage restoration begins. Working with a comprehensive property damage restoration company can ensure you're getting an all-encompassing solution to not only remove mold but also dry your property completely to prevent future problems.
Signs of Hidden Mold Damage
While visible black, green, or white spots can mean mold growth, there are a few other mold warning signs every homeowner should be aware of.
Some of the most common warning signs of hidden mold growth in the home include:
Warped walls, floors, or ceilings
Mold specs on clothes, drapes, or furniture
Allergy or asthma flare-ups
Persistent cold symptoms while indoors
The heater or AC smells musty or odd
Peeling wallpaper or paint
Musty odor throughout the home
Any signs of mold illness coming from mold growth in the home should be taken seriously, whether that's itchy eyes, a runny nose, or other health problems. Over time, mold illness can cause irreversible damage to your health, even causing death if the mold exposure is prolonged.
What Do I Do If I Have Mold Damage in My Home?
At the first sign of possible mold growth in the home, reach out to a professional to complete a mold test and confirm the contamination in your space.
If mold spores are found, work with a professional restoration company to ensure all mold is removed, moisture is dried, and the area is completely sanitized to make it safe for your and your family to return home.
"Black Mold": A Special Consideration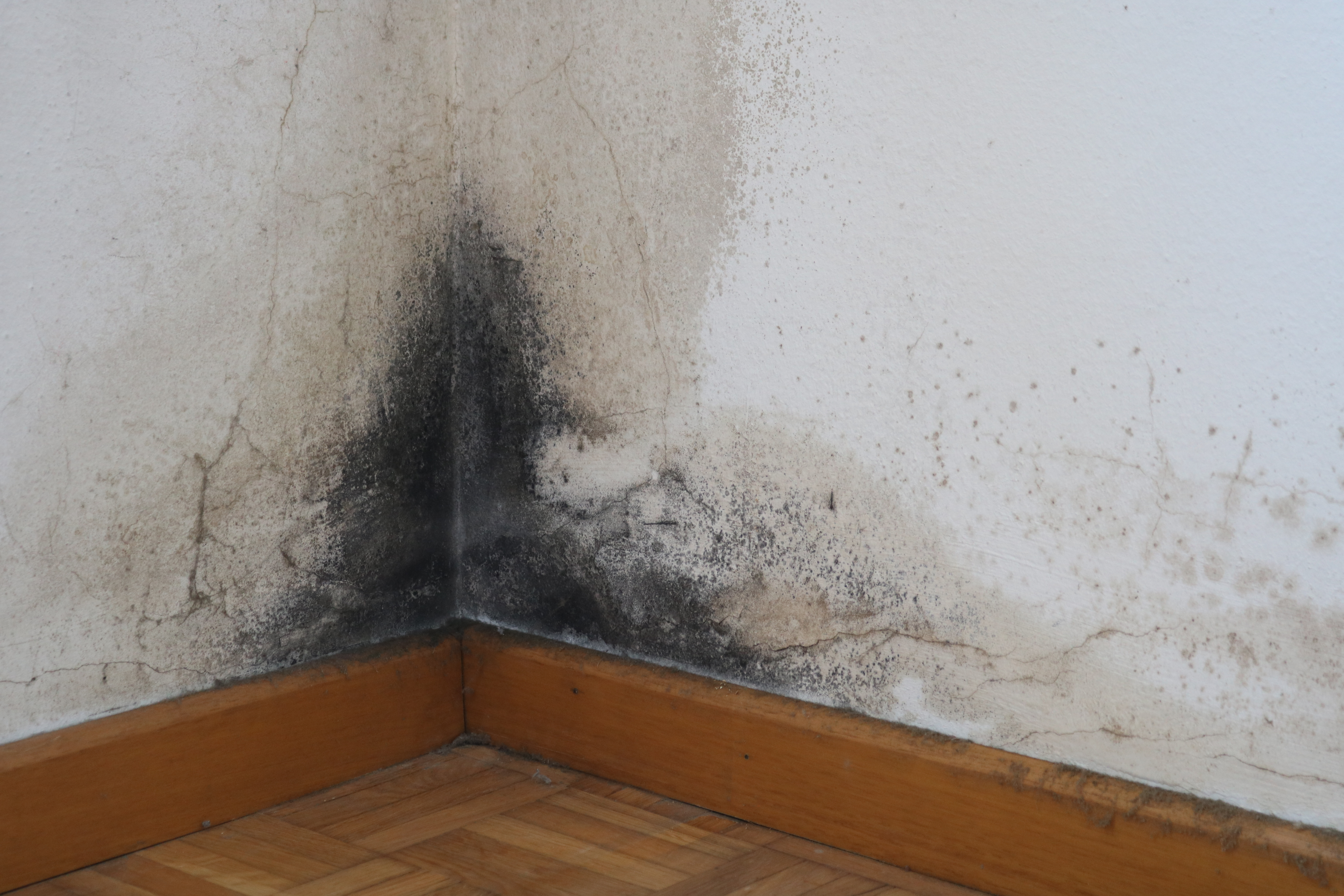 Black mold is kind of a misnomer. What people really mean when they are concerned about black mold is toxic mold, and toxic mold can come in all different shades. Additionally, not all black-colored mold is toxic. This is why we recommend against DIY removals–You can never be exactly sure what you're working with.
If the mold in your home is toxic, you may notice some unpleasant side effects such as coughing, sneezing, and congestion. And for those particularly sensitive to mold spores, there may also be shortness of breath, wheezing, chest tightness, or asthma attacks.
ServiceMaster's Trusted Mold Removal & Damage Restoration Services
At ServiceMaster of Berrien County, we work with homeowners all around Berrien County to recover from mold damage, water damage, and more using a trusted mold damage restoration process established and used by ServiceMaster for over 65 years.
Our mold damage restoration process includes:
Damage Assessment – Once we arrive, we'll complete a full damage assessment of your property to locate all mold-damaged materials and get started on your restoration action plan.
Water Mitigation – If needed, our team will complete the proper water mitigation services to prevent water damage from spreading to other parts of the home.
Mold Removal – We'll isolate the mold damage and remove it from your property using commercial-grade equipment and our trusted processes.
Damage Restoration – Any damaged materials will be restored to their pre-loss conditions with the help of our team. This will also include a full cleaning of your property, making sure to eliminate any signs of impurities around your property.
Request Your Mold Damage Restoration 24/7
Mold removal is not a DIY project. Instead, let ServiceMaster of Berrien County's team take care of it for you! We're fully prepared to ensure a job well done to give you the confidence and peace of mind that your family, children, and pets can return to a safe, clean, and healthy environment – free of mold!
Dial(269) 218-4879 to learn more about our services or to schedule your mold removal and damage restoration service in Berrien County.