Disinfection Cleaning Services
The health and safety of your employees are of top priority when it comes to running your business. This has become even more crucial in light of the recent coronavirus pandemic. One way to help protect employees and their families from the virus spreading in the workplace is to have the office or building decontaminated. Hiring a commercial disinfection service provider will ensure that the harmful bacteria and pathogens that may spread illness are fully eliminated.
SVMPS provides professional disinfection services for offices and commercial buildings in the Minneapolis, MN area to help fight against the spread of illnesses like the coronavirus. Our professional technicians will use hospital grade and EPA-registered disinfectant products to thoroughly sanitize your work environment.
What is the Coronavirus?
The coronavirus, or COVID-19, is a respiratory infection that may cause trouble breathing in addition to chills, coughing, and fever. Symptoms may be more severe depending on the health status of the individual. The virus spreads from person to person through respiratory droplets and it may take between 2 and 14 days for symptoms to appear.
Here is a link to the FAQ page on the Centers for Disease Control (CDC) website to find out more about the coronavirus.
Professional Sanitizing Services in Minneapolis, MN
While regularly scheduled cleaning and maintenance can help maintain the overall cleanliness of the office or building, some areas and surfaces may be overlooked. SVMPS makes sure to be especially attentive to high traffic areas as well as high-touch surfaces and materials. These surfaces include door handles, keyboards, desks, phones, light switches, bathroom fixtures and countertops.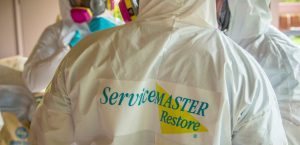 Our technicians wear Personal Protective Equipment (PPE) and follow the suggested guidelines of the CDC and World Health Organization (WHO) to make certain that our work is thorough and effective. We are prepared and equipped to fully decontaminate your office or building and help protect against harmful germs using EPA-registered disinfectants.
When enlisting SVMPS for our professional disinfection services for commercial buildings, you can trust that we will:
Use powerful disinfectant cleaning products, equipment, and techniques
Pay special attention to high traffic areas and high-touch surfaces
Make certain that our work is thorough by fogging the property with a broad-spectrum biocide
Neutralize any airborne viral particles as an added precautionary action
We can assist different kinds of facilities with our commercial disinfection services, including:
Commercial buildings and offices
Nursing homes and assisted living facilities
Childcare facilities
Museums and libraries
Gyms and fitness centers
Other public buildings
Below are some preventative actions that can be practiced in the workplace to help minimize the spread of the coronavirus:
Practice social distancing of at least 6 feet
Offer alcohol-based hand sanitizer
Encourage employees to generously wash their hands for at least 20 seconds
Ask anyone who may be feeling flu-like symptoms to stay home
If feasible, offer or create the opportunity for employees to work from home
Provide paid sick leave as an added incentive to stay home when feeling ill
Contact SVMPS for Disinfection Services of your Business Today
The CDC advises that businesses help minimize the spread of the coronavirus by taking precautionary measures. Contact ServiceMaster for our professional disinfection services to decontaminate your office or building in the 28 counties in East Central, South Central, Southwest Minnesota and the Twin Cities of Minneapolis & Saint Paul. We are available 24/7.
​