Professional Remodeling Services from ServiceMaster by Fuson
With ServiceMaster by Fuson, you can feel confident knowing we have the expertise, equipment, and dedication to handle your entire remodeling project from design to completion. Through our many years in the Restoration business, we have put many families and businesses back together after a loss. We now offer our experience to homeowners for remodeling jobs in your home. If your home was damaged by a fire, flood, or other devastating circumstance, ServiceMaster by Fuson is here to help you rebuild.
Our remodeling services include:
Bathroom Remodel
Kitchen Remodel
Basement Remodel
Decks
Pole Barns & Garages
Exteriors
Bathroom Remodeling
ServiceMaster by Fuson provides full bathroom remodeling services, also known as bathroom renovations. Therefore if you need to update a powder room, rebuild your bathroom after a flood, or convert a master bath into a luxurious retreat, we're here for you.
We offer expertise, product knowledge, and exciting bathroom design ideas to guide clients through the process with ease. Every bathroom remodeling project involves a level of artistic flair – let us help develop your custom bathroom remodel design plan – one that aligns with your vision.
Have questions about bathroom remodeled cost? Give us a call. We'll provide you with a free quote, and you'll be able to leverage our experience in bathroom remodels – we'll give you tips and hints to maximize your available space.
Before: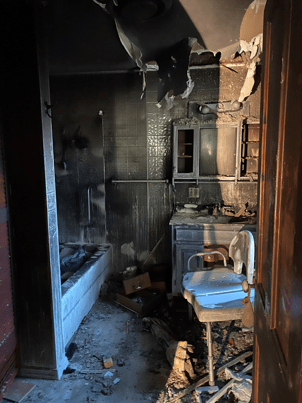 After: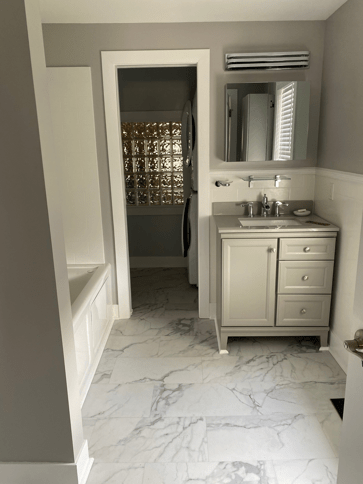 Kitchen Remodeling
Kitchens today are the centerpiece of the home. Current kitchen designs provide maximum function and use of available space while being more stylish than ever. If your kitchen lacks functionality or some aspect of your kitchen needs a little updating, ServiceMaster by Fuson can help. We provide kitchen remodeling services and collaborate with homeowners from start to finish, ensuring your kitchen remodeling project goes smoothly and is done to your satisfaction. We work on full kitchen renovations, rebuilding your kitchen after a fire or flood, or simply updating and refreshing your design.
Only looking for a small kitchen remodel? No problem. We can handle any size kitchen remodel – from a small galley kitchen to the grandest of gourmet kitchens.
Have questions about a kitchen remodeled cost? Give us a call. We'll meet with you and provide you with a free quote. While we're there, you'll be able to leverage our experience in kitchen remodels – we'll give you tips and hints for your new kitchen design – to maximize your available space and give you a kitchen that is both beautiful and functional.
Before: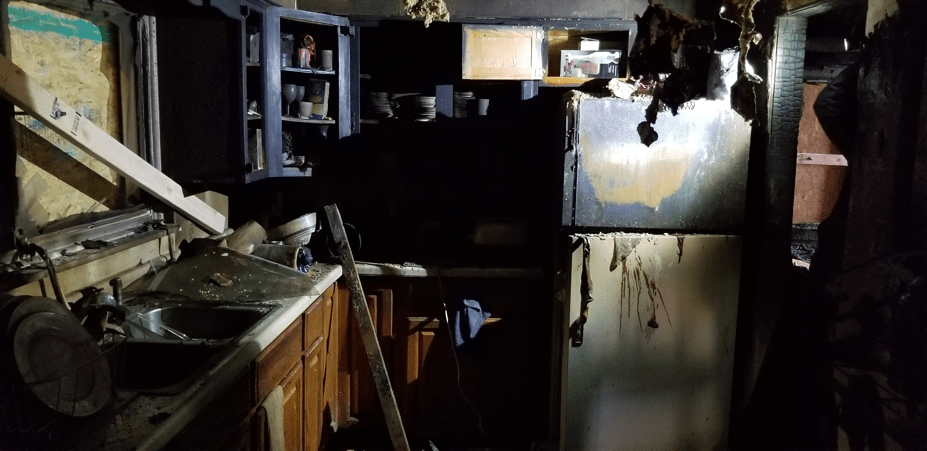 After: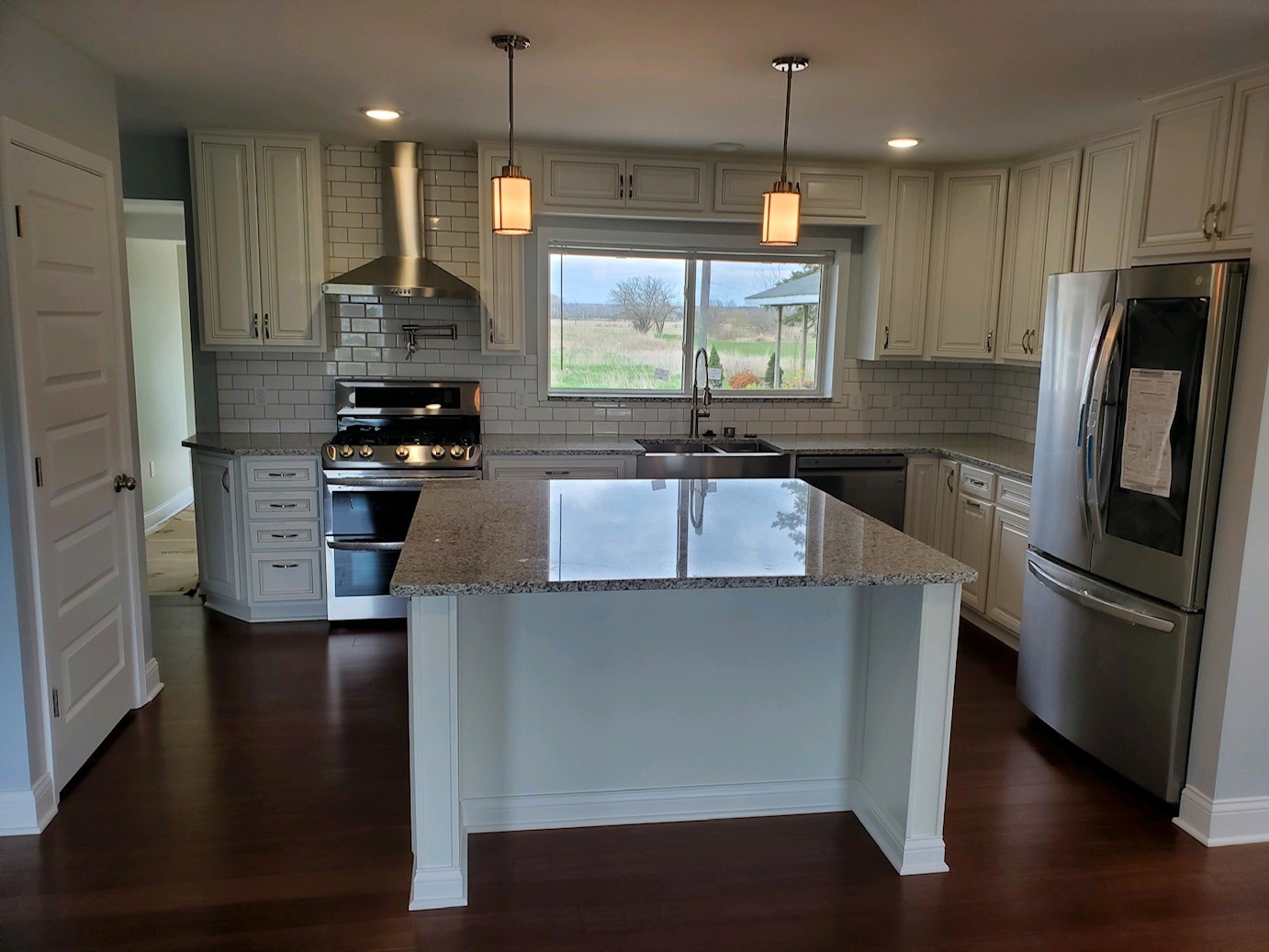 Basements
Basement finishing, also known as basement remodeling, is one of the best ways to add living space to your home and increase its value. ServiceMaster by Fuson can help you turn your blank, unfinished basement into a wonderful playroom for everyone, or turn it into an elegant space for entertaining. Maybe you have experienced a flooded basement and need total reconstruction. We have the expertise to turn your basement vision into a reality.
Have questions about a basement remodeled cost? Give us a call. We'll meet with you and provide you with a free quote. If you don't mind, we'll provide you with some tips and hints for your basement design, leveraging our experience in basement remodels. Our basement design will provide you with a plan for a new, fresh living area that you'll want to spend time in.
Decks
Decks increase your living space and provide added beauty allowing you to relax or entertain outdoors. The materials use to build decks vary greatly and enable decks to differ in size and shape. Call ServiceMaster by Fuson to discuss your needs and we will help design the perfect deck to meet your expectations.
Pole Barns & Garages
If you're looking for extra storage, a garage or pole barn is the answer. ServiceMaster by Fuson offers mid-sized detached garages, sheds for trailer storage, pool sheds, and detached studio/workshops. If you have questions about pole barn prices, pole barn plans, or simply aren't sure if a pole barn is right for you, give us a call. We'll gladly discuss your garage or pole barn needs and we can help turn your vision into a possibility.
Commercial Buildings
We offer our remodeling services to the commercial industry as well. From retail stores to warehouses, we have the expertise to create the custom space you are looking for. If your business experienced a flood or fire, our reconstruction capability will get your business back on its feet.
Here are some photos from one of our reconstruction projects. The home suffered a major water event. We utilized many of our restoration services to get this home to like new condition.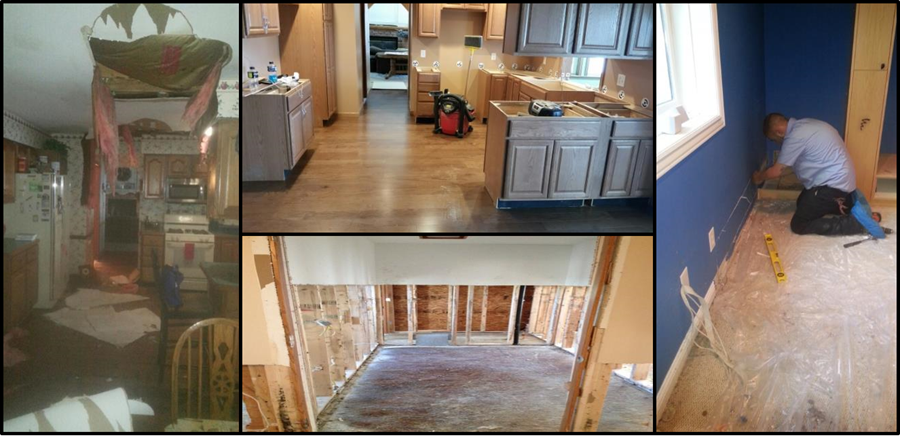 If you are looking for professional renovation services in Midland for your kitchen, bathroom, or for damaged property, call (989) 200-5126 today!