Cleaning Services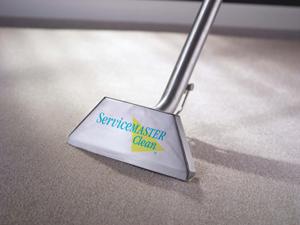 Carpet, Tile, and Grout Cleaning Services
Carpet and Upholstery Cleaning
Nothing gives your home or business a cleaner feeling than fresh carpets, spotless upholstery, and gleaming floors. At ServiceMaster Restoration Services we work with your schedule and guarantee the job is done right or we'll do it over.
To maintain your carpet's appearance, all major carpet manufacturers recommend having your carpet professionally cleaned every six to twelve months. Unlike professional cleaning, most rented carpet cleaning equipment leaves the carpet wet with detergent residue. At ServiceMaster Restoration Services we have the professional equipment and expertise to remove dirt, detergent, and moisture. We offer hot water extraction, low moisture cleaning and dry cleaning.
Upholstered Furniture Cleaning improves appearance. At home or at work, fabric furnishings are often heavily used and thus show soil and dirt quickly. Our trained professionals are experts at choosing the correct cleaning method for your upholstered furniture. Not all fabrics can be cleaned in the same manner. By selecting the correct system we deliver better results for each fabric type.

Tile and Grout Cleaning
One of the biggest challenges with tile flooring is keeping grout clean. Porous grout lines trap dirt over time, causing your tile to look dull and drab in appearance.
Our six-step tile and grout cleaning process gets your grout clean and keeps it looking its best. It can be used on both ceramic and porcelain tile and is ideal for kitchens, baths, countertops, and other tiled areas of your home or business.

Tile and Grout Cleaning process includes:
A preliminary inspection of your tiled areas is conducted to assess the best cleaning method
Spots and stains are pre-sprayed using our proprietary green cleaning product
Dirt and ground-in soil are removed with high-pressure cleaning that also rinses and extracts excess water
Corners and baseboards are carefully cleaned
Tiled areas are efficiently dried
Grout lines are sealed to preserve cleanliness and prevent long term damage (optional)
If you need tile & grout or carpet cleaning in Auburn, Columbus, Orlando, Pensacola or Tallahassee, trust the experts at ServiceMaster Restoration Services.