When you hear the term 'severe weather,' what comes to mind? Tornadoes? Hurricanes? Flash floods? All of these weather events are dangerous, but there's one type of storm that's more likely to cause damage to your home – straight-line winds.
Straight-line winds hold a variety of similarities to other severe wind storms, and are often confused by to those who live in areas that may be prone to tornadoes due to how similar they are. Learn more about what they are, how they form, and how to protect your home from straight-line wind damage.
What are Straight-Line Winds?
A straight-line wind is any strong wind resulting from a thunderstorm that does not rotate. They can lead to considerable damage to property, pushing trees onto structures and cars, cause damage to houses, and break through power lines. Straight-line winds can also exceed 58 mph and can last a considerable amount of time, potentially for more than twenty minutes.
When straight-line winds are expected, the National Weather Service will issue a Severe Tornado Warning. To protect yourself, your family and your belongings, once this warning is issued, seek shelter the same you would during a tornado: get in an interior room that's away from windows on the lowest floor of your home.
What Causes Straight-Line Winds?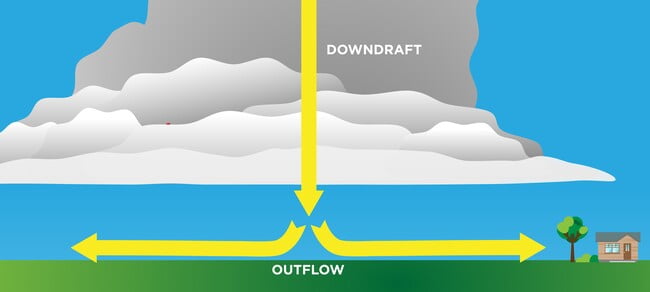 Straight-line winds form when cool, dry air forms inside the storm system of a thunderstorm. This air builds up during the storm as condensation in the form of rain continues to cool the air down, eventually becoming heavier than the surrounding warm air.
Because there's not only a weight difference but a temperature and density shift, the storm system pushes the dry air downward at a high speed. As the colder air reaches the surface, it spreads, causing fast-moving gusts of wind that can reach over 100 mph. This downdraft is the reason why straight-line winds are also referred to as downbursts.
Straight-Line Winds vs. Tornadoes: What's the Difference?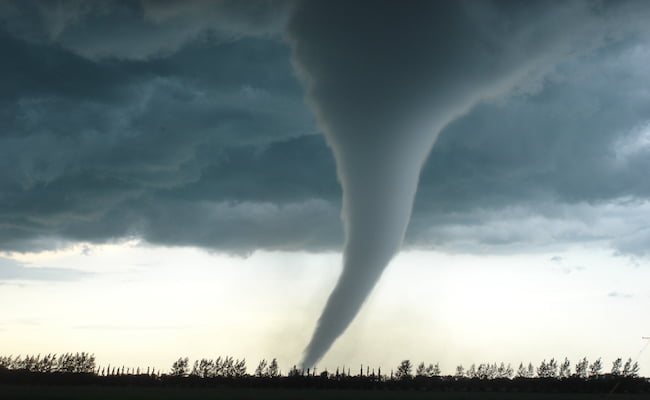 Straight-line winds are often confused with tornadoes because of the severity and damage they can cause. They both make loud, roaring sounds and both can have winds exceeding 150 miles per hour. But there are a few key differences between straight-line winds and tornadoes:
Like previously stated, tornadoes rotate. That means that wind flows into a tornado. This is why debris left in the wake of a tornado is formed in a circular pattern or "twisted."
During a straight-line wind, all air flows out of the downburst. This leaves the debris laying in straight lines or in a fan-like pattern.
What is a Derecho Storm?
To throw one more term in the mix, there are also thunderstorms featuring high-speed, straight-line winds known as derechos. Derecho means "straight ahead" in Spanish, indicative of the straight line of destruction these storms leave in their path.
For a storm to be designated as a derecho storm, it must travel more than 250 miles, produce sustained winds of at least 58 mph, and create gusts up to 75 mph.
Derechos generally occur during the summer and are sometimes accompanied by other extreme weather events, such as tornadoes, heavy rain, hail, and strong winds.
Derechos are quick and often come without warning, which is why there's no National Weather Service alert for these storms. If you live in an area where derechos occur, like Kansas, Oklahoma, Missouri, and Arkansas, take the same precautions that you would for tornadoes to protect your property, like trimming branches and cutting down unhealthy trees that could be thrown at your home by the strong winds.
Recover Your Home from Straight-Line Wind Damage
No matter the type of storm, ServiceMaster Restore is here to help. We have more than 800 locations across the United States that are locally owned and operated. Our severe wind storm restoration experts will help you get back to normal as quickly as possible. Call 1-800-RESPOND to reach our disaster response center 24 hours a day, 7 days a week, 365 days a year or reach out to a ServiceMaster Restore location near you.