Certain regions of the U.S. are known for particular kinds of weather. The Pacific Northwest is known for its rain, the South for its humidity and the Northeast for its cold winters. However, other regions are known for their more extreme weather, such as tornadoes which can lead to costly damage to homes. In the United States, one of these regions known for its frequent tornadoes is called Tornado Alley.
What is Tornado Alley?
Though not an official term used by the National Weather Service, experts coined the term "Tornado Alley" in 1952 to reference a group of Great Plains states in the central U.S. where tornadoes are most frequent.
Not only are tornadoes more frequent in Tornado Alley, they are also more devastating. A study by NOAA found that of the tornadoes that occurred from 1921 to 1995, almost one-fourth of all significant (EF2 or greater) tornadoes happened in Tornado Alley.
Where is Tornado Alley?
Tornado Alley is a loose area that has not been officially defined and is often the subject of debate. However, the following states are typically considered the core part of Tornado Alley:
Iowa
Kansas
Nebraska
Oklahoma
South Dakota
Texas
Several other states such as Illinois, Indiana, Louisiana, Missouri, and Ohio are sometimes included in the Tornado Alley region due to the increased factors that are favorable to the creation of these dangerous storms.
Within these states, some cities are more prone compared to others. Some of the major cities most frequently hit by tornadoes include:
Jackson, Mississippi
Little Rock, Arkansas
Oklahoma City, Oklahoma
St. Louis, Missouri
Tulsa, Oklahoma
Wichita, Kansas
Why is Tornado Alley Prone to Tornadoes?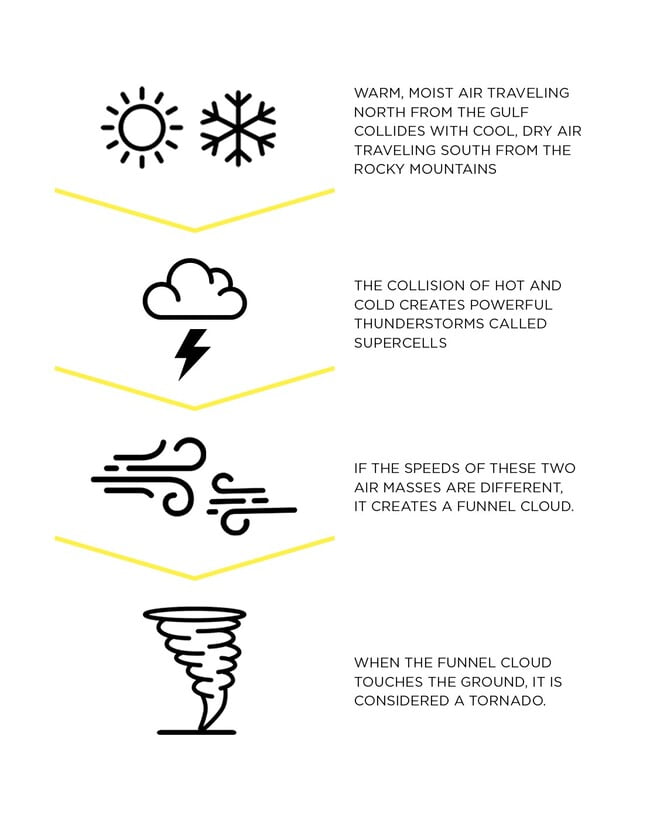 From late spring through early fall, Tornado Alley frequently has optimal weather conditions for the formation of tornadoes.
In these central Plains states, warm, moist air traveling north from the Gulf of Mexico and cool, dry air traveling south from the Rocky Mountains can collide to produce violent, powerful thunderstorms called supercells. If the speeds of these two air masses are different, it creates a funnel cloud. When the funnel cloud touches the ground, it is considered a tornado.
For example, Texas and Kansas alone average 155 and 96 tornadoes each year, respectively. This number is a significant portion of the over 1,000 tornadoes that the United States sees each year.
Is Tornado Alley Shifting?
There is an ongoing debate among weather experts about whether Tornado Alley is shifting to east. In recent years, it has been southern states, such as Mississippi, Alabama, and Tennessee, that have been hardest hit by tornadoes. This tornado-prone area between the Appalachian and Rocky mountains has been nicknamed "Dixie Alley."
Some researchers say the whole concept of Tornado Alley is outdated, and anyone living east of the continental divide is vulnerable to tornadoes. This can be reflected most recently when a string of 48 tornadoes affected southern states in March 2021.
Recover from Tornado Damage To Your Property
Whether you live in Tornado Alley or another region of the U.S., tornadoes are always a possibility that can lead to significant damage to your home and potential harm to you or your family.
That's why we recommend you take three important steps to protect your family and your home.
Create a plan before a tornado strikes, so you aren't caught off-guard.
Know what to do when a tornado watch or warning is issued for your area.
Identify what steps to take in the aftermath if your home is damaged.
If you do experience tornado damage, ServiceMaster Restore is here to help. We have more than 800 locations across the United States that are locally owned and operated. Our tornado damage restoration experts will help you get back to normal as quickly as possible. Call 1-800-RESPOND to reach our disaster response center 24 hours a day, 7 days a week, 365 days a year or find your local ServiceMaster Restore location for help near you.