Commercial Restoration in Minneapolis
Helping Your Business Recover After A Disaster
Running a company keeps you plenty busy, which means it becomes that much more stressful when something goes wrong. When your commercial property sustains damage, no matter the source, having a team you can rely on will make all the difference in recovery.
That's why ServiceMaster of Minneapolis is here, available 24/7 for emergencies, to help you get things back to normal. Our goal is to work quickly and efficiently, creating a custom plan of action that minimizes business interruptions and maximizes the number of items salvaged.
Our highly-rated restoration company will guide you through the restoration process, addressing any questions and concerns along the way.
Looking for trusted Minneapolis commercial restoration? Call us at (612) 688-4497 or reach out online to request your services. Call us anytime - day or night.
Our Commercial Restoration Services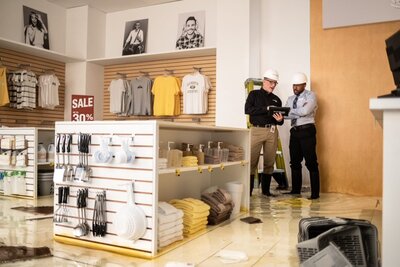 Whether you've just discovered mold in your school or your retail store flooded, we can help.
Our owner, David Rusciano, has over 25 years of experience in the industry. We've seen it call and will help you rebuild.
Don't hesitate to reach out for commercial restoration services such as:
We also offer specialty clean-up and restoration services, like:
Biohazard and trauma cleanup
Vandalism
Air duct cleaning
Tarping and board-up
Decontaminatino services
Of course, any disaster can leave you feeling disoriented if you weren't prepared for it. That's why we also offer pre-loss planning to help you stay ahead of potential disasters.
Having plans in place can help you feel more comfortable responding immediately, especially in Minnesota, where you're susceptible to many types of weather damage. Every minute counts.
Do you have any questions about our commercial restoration services or do you need to schedule a service? Call us at (612) 688-4497 or reach out online today.
Our Restoration Process
When you let us know that you need restoration assistance, we'll act quickly to:
Mitigate any damage to prevent it from worsening
Tarp and board up the property for protection if necessary
Relocate any salvageable items to a secure facility for restoration
Clean, deodorize, and sanitize documents, possessions, and structures
Conduct structural restoration and safety inspections
Return files, documents, and materials that were cleaned
This list is by no means exhaustive but does give an idea of the steps we'll take to help you navigate this process. Every situation requires different solutions, which you'll have a thorough understanding of before work begins.
Call (612) 688-4497 to learn more about our commercial restoration services in Minneapolis. We're here for your 24/7, 365 days a year.