Disaster Restoration in Minneapolis, MN
Professional restoration services near you
Need a company that is absolutely dedicated to customer service and top of the line restoration? Whether your home is hit by a fire, flood or mold infiltration, your whole life can be turned upside-down almost instantly. It's crucial that you have a team with the know-how to clean up the mess and get your life back to normal.
Our expert team of home restoration technicians is available 24 hours a day, seven days a week, 365 days a year, because we are all too aware that disaster decides to strike at the worst times possible – while you're away on vacation, having a party, or at the office. We've experienced almost everything and are ready to tackle your unique restoration problem, no matter how much damage is involved.
Get in touch with the best restoration company near you today! Give us a call at (612) 688-4497 orcontact us online!
To minimize damage, you must act quickly. When fire, flood or mold causes damage to your home, contact the technicians at ServiceMaster as soon as possible – we're standing by with the proper equipment and training to make repairs within hours.
We're proud to be certified by the Institute of Inspection, Cleaning and Restoration Certification (IICRC), the world's leading restoration Standards Developing Organization (SDO). We have also been certified as a Lead-Safe Certified Firm by the Environmental Protection Agency (EPA).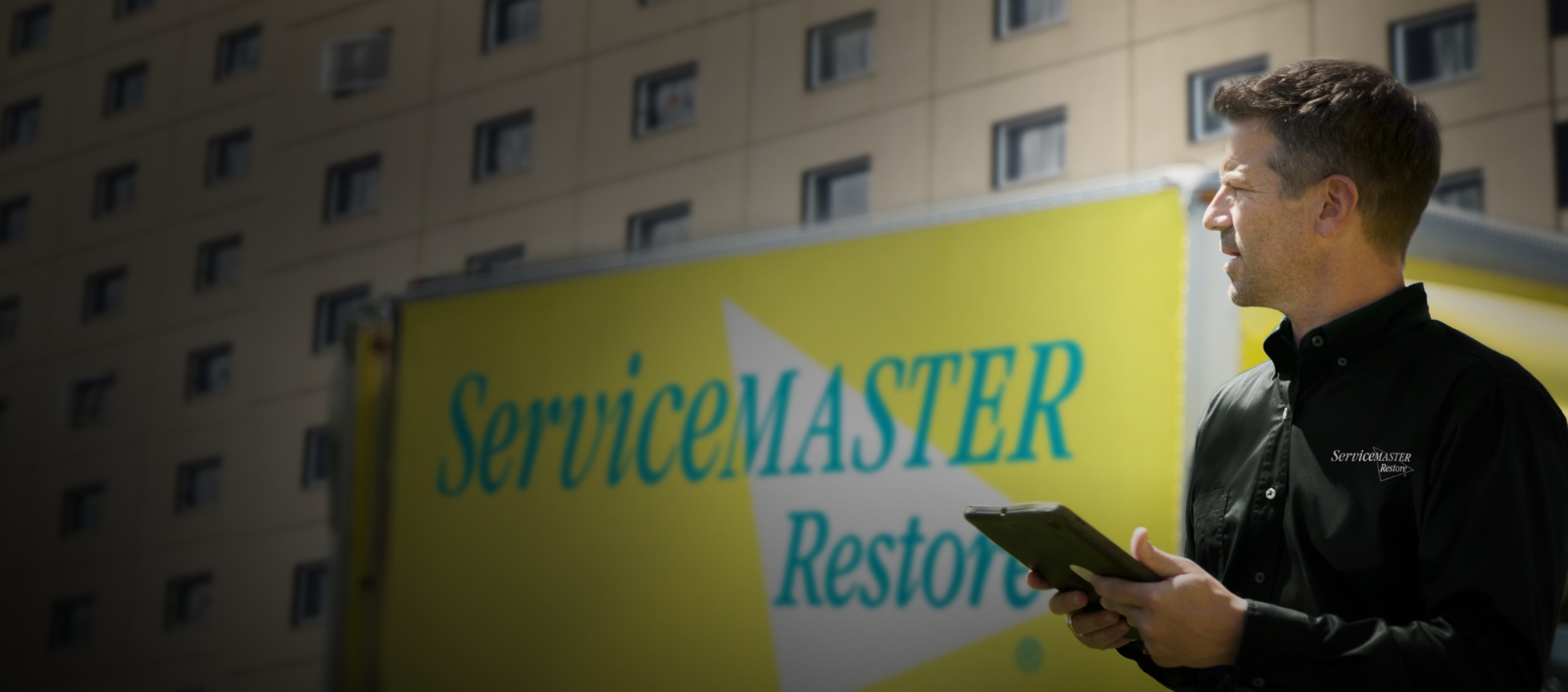 Water Damage restoration
When water infiltrates your home, call ServiceMaster to clean up the mess. From full-service home restoration to emergency flood damage repair, we're the team to contact when you have experienced water damage.
Excess water throughout your home can cause serious destruction like harmful mold growth, electrical hazards, water staining and more. If you don't take care of the problem immediately, water can cause irreparable damage to the structure of your home and the items within it.
As one of the most frequent problems a homeowner can experience, we've seen every type of water damage there is. With a quick call to ServiceMaster, we'll be at your side, providing our expertise to remedy the situation as fast as possible. Our home restoration technicians will get your house cleaned up in no time.
Give our team a call at (612) 688-4497 or contact us online to schedule water damage restoration today!
Below is a sampling of the water damage services we provide:
Water Extraction
Pack Out and Storage
Drying and Dehumidification
Mold Remediation
Demolition and Debris Removal
Drywall Repair and Contracting
Anti-Microbial Applications
HVAC Duct Cleaning
Monitoring
Electronic Equipment Restoration
Data and Document Recovery
Document Drying
Furniture Refinishing
Antique and Fine Art Restoration
Carpet Cleaning and Upholstery Cleaning
Fire & Smoke Damage Restoration
Fire can devastate any person's property, causing severe damage that may seem impossible to recover from. With the experts at ServiceMaster on the case, we'll help make the home restoration process as quick and painless as possible, so you have one less thing to worry about.
When your beloved possessions go up in flames, it's a hard situation to process. It's our goal to give you peace of mind throughout restoration, working as hard as we can to salvage everything possible from the disaster. Whether you're trying to recover electronic equipment, important financial documents, furniture or any other of your household items, turn to our talented team of home restoration technicians in Minneapolis. Not only are we specialists in fire damage repair, we're caring people that want to ensure you get back in your home quickly, while keeping you well-informed throughout the entire process.
When your property has been hit by a fire, contact the experts at ServiceMaster to get the problem resolved as quickly as possible. Our fire and smoke damage restoration services include, but are not limited to:
Pack Out and Storage
Contracting Services
Deodorizing and Odor Removal
Emergency Pre-Cleaning
Structure Cleaning
Content Cleaning
HVAC Duct Cleaning
Carpet Cleaning and Upholstery Cleaning
Restoration Laundry and Dry Cleaning
Furniture Refinishing
Antique and Fine Art Restoration
Electronic Equipment Restoration
Data and Document Recovery
Dial (612) 688-4497 orcontact us online to learn more about our fire damage restoration services today!
Mold Remediation
It's no secret that mold can cause serious problems to your home. If your house has been infiltrated by mold or you've recently experienced water damage that can lead to mold growth, you'll likely need to have a professional inspection conducted.
Not only will mold throughout the home cause damage to the house itself, it presents clear health dangers to you and your family. In just 24-48 hours after water has come into your home, mold can grow. That's why it's so important to contact a professional to help fix your mold problem and restore your home.
ServiceMaster in Minneapolis can fix any mold issues you are facing. We offer professional mold inspections that will assess the damage caused to your home by water infiltration.
Get in touch with the mold specialists at ServiceMaster to ensure your home is protected from disaster. Our mold remediation services include:
HVAC filter and exhaust installation
Standing water removal
Vacuuming and cleaning
Negative air and containment removal
Furnace and duct system cleaning and sealing
Other Disaster Restoration Services
Some of the other home restoration services that we offer are:
Trauma/Biohazard Cleanup
Board-Up Service
Deodorizing/Odor Removal
Pack-Out and Storage Service
Contracting Services
Contact ServiceMaster Today for All of Your Home Restoration Needs
For the best home restoration services in Minneapolis, get in touch with the expert technicians at ServiceMaster. We do everything we can to help you get your home back to normal as quickly as we can, offering 24/7 availability every single day of the year.
When we partner with you, we apply our expertise, training and equipment to fix any damage your home is facing. With our commitment to exceeding client expectations, we've become leaders in the home restoration industry throughout St. Louis Park, Minneapolis, and beyond.
From water damage to fire damage to mold growth and any other type of damage, the home restoration technicians at ServiceMaster will help get your property back to its normal form and your life back on track.
Looking for restoration services near you? Call us at (612) 688-4497 or contact us online now