Mold Remediation in Minneapolis
Certified Mold Removal & Mold Inspection Near You
Are you worried about mold growth in your St. Louis Park home? Contact ServiceMaster of Minneapolis as soon as possible for mold inspection and mold remediation from an experienced, highly trained team of technicians. With a wide variety of restoration and cleaning services, we'll get your property – and your life – back to normal.
For a Mold Remediation inspection call (612) 688-4497 Or request your mold mitigation services online.
When moisture infiltrates your home, it can lead to damaging mold growth, affecting everything from your HVAC system to furniture to ceilings and walls. It's critical to choose a team with the expertise to handle your mold problem in an efficient and effective manner.
Our mold damage restoration company is fully dedicated to customer service and top of the line restoration services. If you're looking for expert mold remediation St. Louis Park, your search ends here, with the team at ServiceMaster of Minneapolis.
Removing Mold From Every Infested Material In Your Home
When mold works its way into your house, it can cause major problems. It can damage all kinds of materials. These include:
Wallpaper
Ceiling Tiles
Carpets
Insulation Material
Wood
Drywall
Using specialized infrared technology, our inspection team identifies mold in every area of your home. With a chemical treatment, we then remediate the mold and provide a new layer of protection for your home. Our experts have completed intensive mold remediation training as well as detailed instruction in the proper procedures for handling mold claims – so you know you're in good hands when you work with us.
To minimize mold growth, you must act immediately. With one quick call, the experts at ServiceMaster of Minneapolis will be at your property with the proper equipment and training to fix the problem in a flash.
if you suspect mold call (612) 688-4497 Or request your mold mitigation services online.
Mold Remediation Services
Mold infiltration can cause big, costly problems if not taken care of right away. Within just 24-48 hours, mold can grow inside your home on wet or damp surfaces. That's why it's crucial to fix the situation as soon as possible by calling the experts at ServiceMaster.
When left unchecked, mold can have serious impacts on both your quality of life and your home's physical structure. At the first sign of mold, look to ServiceMaster to help remediate the problem and prevent long-term damage.
Our mold remediation services include:
Professional mold inspections
HVAC filter and exhaust installation
Standing water removal
Vacuuming and cleaning
Negative air and containment removal
Furnace and duct system cleaning and sealing
Ready to Get Started?
Contact ServiceMaster in Minneapolis by calling (612) 688-4497 or filling out a form on our contact page. When mold infiltrates your home, take action immediately — get in touch with our expert team today!
Mold & Indoor Air Quality
Mold infestations can negatively affect the air you breathe in your home. After mold becomes visible to the human eye, it has already reached a stage where it is releasing an incredible number spores into the environment. Household mold has been known to irritate the respiratory tract. This means that some people experience allergic reactions. People with asthma or other conditions may experience worsening health. Because of their affects on health, the toxins produced by mold are something to take seriously.
Mold Testing by a Team of Professionals
Are you unsure if you have mold?
Our team of professionals can provide you with hard data on whether mold is present. We can help identify how extensive your infestation is as well as what the causes may be. For the most part, if mold is visible anywhere in your home, testing may not be necessary. At that point, we should probably get to work by removing it immediately. But there may be instances where small patches of mold are indistinguishable from dirt. Or, you may be in a situation where you cannot find visible mold, but an unmistakable musty smell is present.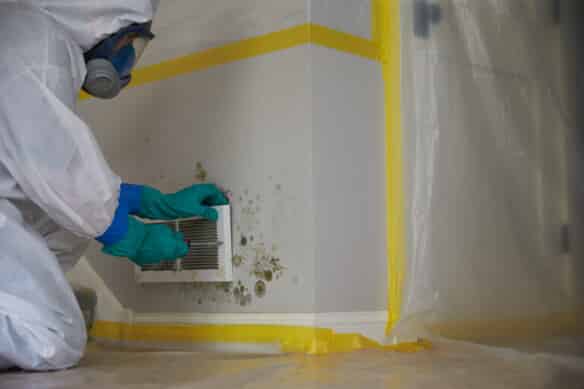 For a Mold Remediation inspection call (612) 688-4497 Or request your mold mitigation services online.
Whether your basement is flooded, your kitchen sink is leaking or a bathroom pipe has burst, water damage can be a costly problem. While it comes with its own unique set of problems, water damage is also a primary contributor to mold growth.
From full-service home restoration to emergency flood damage repair to dehumidification and much more, we provide water damage restoration in Minneapolis, providing expert guidance on what to do and how to fix the problem immediately.
Below is a sampling of the water damage services we provide:
Water Extraction
Pack Out and Storage
Drying and Dehumidification
Mold Remediation
Demolition and Debris Removal
Drywall Repair and Contracting
Electronic Equipment Restoration
Anti-Microbial Applications
Data and Document Recovery
Antique and Fine Art Restoration
Contact ServiceMaster Today for Your Mold Remediation Needs
For the best mold remediation services in Minneapolis, St. Louis Park, and beyond, contact the experts at ServiceMaster today. We use our expertise and experience to help you get your home back to normal as quickly as possible. With our commitment to exceeding client expectations, we're prepared to fulfill your mold remediation needs.
Call ServiceMaster of Minneapolis at (612) 688-4497 for mold damage restoration in Minneapolis.