Mold Removal and Remediation
Mold is a troubling issue in homes and buildings for several reasons. Mold colonies can cause considerable damage, including structural damage, and its presence puts the health of those exposed to it in danger. Mold only needs water and a food source to form, with water being the main catalyst of mold growth. In as little as 48 hours, mold can appear in moist or water damaged areas and it will continue to spread until it is removed.
ServiceMaster of Albuquerque and West Mesa provides mold remediation services in Albuquerque, NM and all of New Mexico to remove mold from homes and commercial buildings. Our technicians are equipped to find and remove all mold using advanced techniques and cleaning products. Once the mold is removed, we will repair or replace the damaged materials and address the moisture source that caused the mold to prevent future mold issues.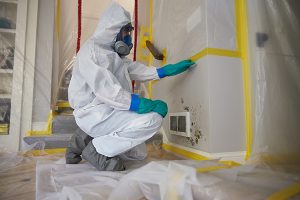 Problems Caused by Mold
Mold can lead to a range of issues within your property from extensive property damage to health issues. Mold spores are a constant presence in the air which is why mold growth can always form if it finds the right conditions. The main food source for mold is cellulose which is an organic substance found in most building materials including wood and drywall. This means that mold eats away at the surfaces it affects which can cause significant structural damage in time. Mold growth is also likely to spread as mold colonies disperse their spores.
The potential health problems caused by mold are just as troubling. Those exposed to mold may experience allergic reactions such as nasal congestion, coughing, trouble breathing, headaches, skin irritation, and itchy eyes and throat. Prolonged exposure leads to more serious symptoms like respiratory infection and asthma. Those most vulnerable to these health issues include children, seniors, and those with compromised immune systems.
ServiceMaster Mold Remediation Process
At ServiceMaster of Albuquerque and West Mesa, we are prepared to handle all levels of mold growth in homes and buildings. We will identify all mold within your property, including hidden mold, and remove it from the affected surfaces and building structures. We also work with a nationally recognized testing facility to provide lab analysis and testing to ensure the mold has been removed.
Our mold removal services consist of the following steps:
Evaluation of the mold growth and resulting damage
Report of our evaluation to your insurance provider
Isolation and containment of the affected areas to prevent the mold from spreading
Environmental testing to determine mold types from a certified industrial hygienist
Complete mold remediation according to the guidelines of the CDC, including mold removal and repair or replacement of damaged materials
Commercial Mold Remediation in Albuquerque, NM and all of New Mexico
Our technicians are prepared to provide complete mold removal in any commercial setting, no matter the extent of the mold growth. We use the same methods to find and removal all mold and restore the affected areas. It is important to respond quickly to mold in your commercial building to prevent damage and health issues to anyone exposed.
If there is mold in your home or commercial building in Albuquerque, NM or anywhere in New Mexico, call our professionals at ServiceMaster of Albuquerque and West Mesa immediately. We will find and remove all mold growth with assistance from nationally recognized testing facilities and restore the areas affected. You canreach us 24 hours a day at (505) 257-6922.