Hoarding Cleaning Services in Elgin, IL
Compulsive hoarding, or hoarding disorder, is a dangerous mental condition that encourages individuals to keep excess belongings in their homes. These items can range from necessities and knick-knacks to piled up newspapers and broken appliances. As a result, these individuals, as well as anybody else living in the affected homes, are exposed to a number of dangers.
At ServiceMaster Kwik Restore, we provide hoarding cleaning services to eliminate these risks, remove unneeded belongings, and completely clean affected properties. We offer these services to those in need in Elgin, IL.
The Hazards of Hoarding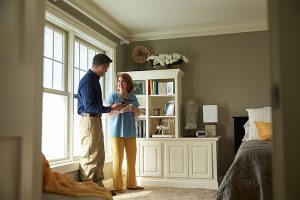 ​When large amounts of items are stacked up and compressed into the confined space of a home, a number of risks arise. Some of the more severe hazards include:
Fire hazards
Blocked hallways and exits
Tipping hazards
Bacteria and mold growth
Allergen buildups
Each of the above issues can lead to severe injury, health complications, and even death. For these reasons, it is critically important to return your property to safe and sanitary conditions.
That being said, it can be difficult for those affected by hoarding disorder to seek assistance on their own. It is sometimes necessary for trusted friends and family members to explain these dangers to the affected individual if progress is to be made.
Effective Hoarding Cleaning Services
At ServiceMaster Kwik Restore, we understand the unique challenges associated with hoarding cleaning. This is why we always build a relationship with individuals affected by compulsive hoarding before beginning any restoration services. Mutual respect and trust is necessary in order to achieve desired results. Once this has been established, we can begin our sanitization services.
Our technicians help affected individuals determine which items are truly necessary to keep, and then utilize powerful cleaning equipment and solutions to sanitize the property.
If required, we are qualified to remove dangerous biohazard materials from your home, as well. We comply with the rules and regulations set by the EPA, OSHA, and the Department of Transportation.
For a more complete understanding of what to expect from our hoarding cleaning services, please see below:
We first develop a relationship with affected individuals
Any unwanted or unneeded items are then removed (we consult the affected individual throughout this process)
We decontaminate freshly exposed areas that had been hidden under debris
We eliminate lingering odors
Any items that are removed will be properly disposed of, donated, or recycled
If you or a loved one struggles with hoarding tendencies, we encourage you to give our ServiceMaster Kwik Restore representatives a call. Through our hoarding cleaning services, we remove excess items, and return homes in Elgin, IL, to livable conditions.
If you believe you may need a multi-step cleaning process to get your loved one's house in pristine condition, we offer other specialty cleaning services for an even deeper clean.
To Discuss Your Situation with One of Our Experienced Professionals Give us a Call at (847) 513-9018.